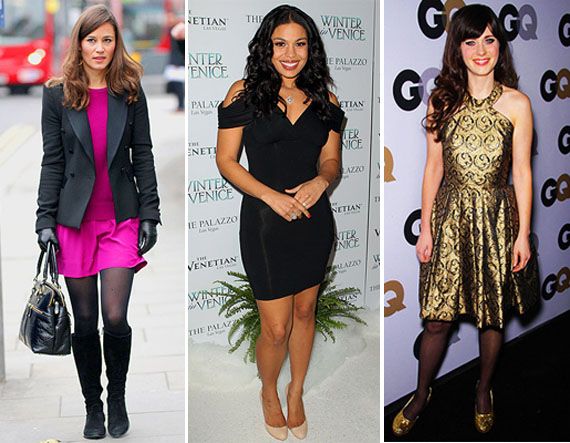 Beretta/Sims/Startraks/Jeff R. Bottari/Getty/Jim Smeal
Getting dressed in the morning doesn't have to be a big ordeal if you're aware of how to dress for your personal body type. There are just certain styles and cuts that aren't going to be as flattering as others if you are trying to force it on the wrong body shape. People magazine took a look at some of Hollywood's hottest celebrities and their various body types to show just how it's done.


If you're tall and thin like Taylor Swift then a corset dress with a singed waist is perfect to give you some curves where you need them. The full, flowy skirt also adds some shape to a thinner frame as well. (Photo Credit: UPI/Terry Wyatt/Landov)

If you are more petite like Nicole Richie, a looser fitting dress in a thicker or shinier material is a great idea. The waist is still accentuated while the low cut neck line and uneven hem line call attention to the right areas. (Photo Credit: Donato Sardella/Wireimage)

If you have a fuller figure like Adele, choosing a darker color palette and embellishments works perfectly. The tea-length adds height and elongates the body along with the three-quarter length sleeves. (Photo Credit: Kevin Mazur/Wireimage)


Visit PeopleStyleWatch.com to see more tips on dressing for your body type.