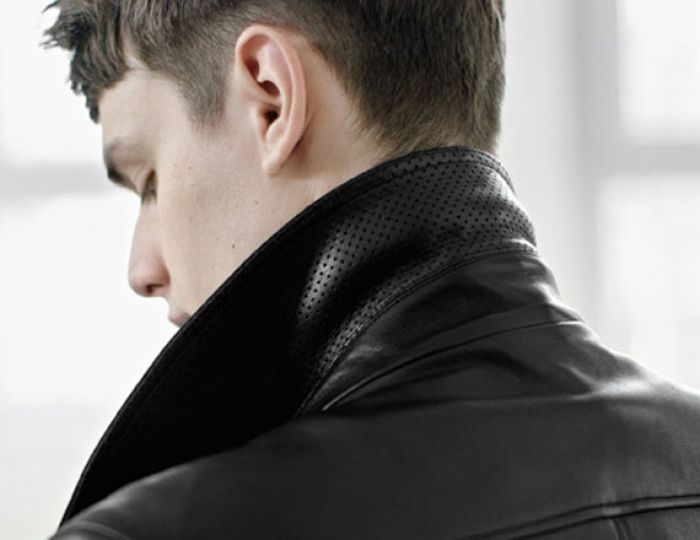 Photo Courtesy of Yves Saint Laurent
We've got you covered on gift ideas for the different types of men in your life. Whether you're shopping for outdoorsy types or city slick urbanites, our Menswear
Holiday Gift Guide
includes everything from fashion forward indulgences to practical everyday items that will excite everyone on your list. Read on for some shopping inspiration.
Balenciaga Shearling Jacket, $2,788
When it comes to outerwear, it can be hard to balance style and function during the winter months. Fortunately, this Balenciaga camel shearling jacket is both chill proof and cool, ensuring that you'll look stylish without fretting in the cold.
Molami Earphones, $200
Combining Napa leather and 18k accents with an innovative, ergonomic design, Molami's earphones will make you stand out from the crowd.
Masunaga Glasses, $328
Founded in 1905, Manusaga is the oldest frame company in Japan. Each pair is meticulously handcrafted and elegantly designed with a timeless, quality-centric approach that will never go out of style.
Yves Saint Laurent Crew Neck Sweater, $475
Yves Saint Laurent's electric blue sweater perfectly adds a chromatic shock to any man's wardrobe. And thanks to its classic crew neck and supple wool material, it remains a classic style staple.
Sunspel Low Waist Trunk, $37.50
This Sunspel fine trunk doesn't make a statement with a logo. A perfect alternative to Calvin Klein, it has subtle branding and is made with fine Egyptian cotton.
The Superior Labor Socks, $26
Despite its brand name, these socks aren't just for outdoorsy types. The soft cotton ensures comfort, while the off-kilter colors make them style staples for your foot.
Common Projects, £2,400
Common Projects is inspired by everyday things, but these Crocodile Achilles trainers are anything but run of the mill. Designed for Thomas Erber's Cabinet de Curiosites, they're an investment but unmistakably luxurious.
Comme des Garçons's Christmas Special, £170
There's always someone who's hard to please on your list. Fortunately this unequivocally amazing Comme des Garçons wallet is designed for that discerning individual.
Lanvin Tank, $1100
Who says a tank needs to be plain? Lanvin certainly doesn't, and the romantically inclined house has put its characteristically luxurious touch on this printed silk satin top. It's a striking item on its own or a nice piece to build layers over.
Damir Doma, Viscose & Paper Canvas Jacket, $1962
Damir Doma has a way of working with tailored pieces. He upends traditional rigid construction with this jacket by incorporating light viscose and paper canvas as well as vents in the back for some unexpected drama.