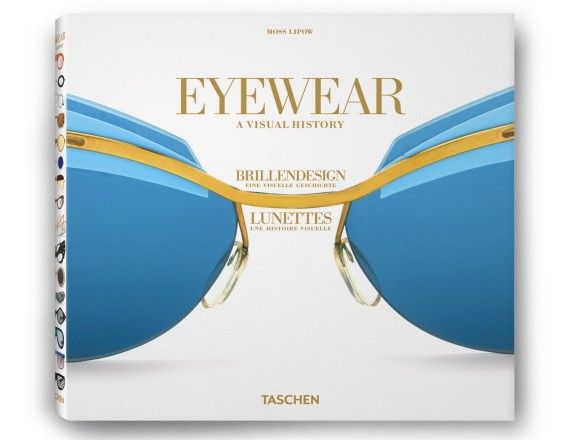 Photo Courtesy of Taschen
There are fashion victims who dabble in designer frames, major labels who license their names for sunglass lines, and those who shamelessly rip off both — and then there's Moss Lipow.

The New York-based design provocateur has single-handedly put eyewear in the same league as haute couture with his endlessly innovative, meticulously crafted specs and shades, beloved by the likes of David Bowie, Elton John, Lady Gaga and style mavens who don't want to look like everyone else. Last year he was named a CFDA/Vogue Fashion Fund finalist, the first eyewear designer to be so honored, and now he's come out with the ultimate style bible for the eyewear obsessed.


Eyewear: A Visual History published by Taschen features highlights from Moss Lipow's world-famous collection of sunglasses, eyeglasses and everything in between — over 1,000 of them, covering nearly 500 years of design. From a crude bone sunshield and curious contraptions of leather and wood to lorgnettes, pince-nez, monocles, aviators, and bejeweled cat eyes, Lipow accompanies the lavish illustrations with a deeply researched history of eyewear design, related in an engaging style as delightful to read as it definitive.

Sure to be given pride of place on the shelves of every design enthusiast, not to mention quite a few modernist coffee tables, the book is a must-have addition to any style library. Visit Taschen.com to purchase for $59.99.

See more Luxury Goods at JustLuxe.com