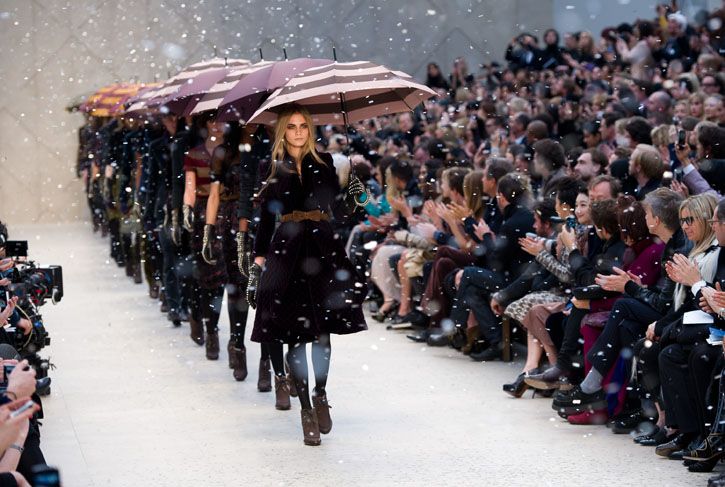 Photo Courtesy of Burberry
Burberry
Prorsum 2012 Womenswear show in London's Hyde Park connected with fashion enthusiasts worldwide using an innovative blend of social media including a Twitter "Tweetwalk," and live streaming on Facebook, Burberry.com, and partner sites Sina and Youku. In addition, for this year's show, Burberry coordinated an exclusive soundtrack for the event, which was recorded by Burberry Acoustic musician Rae Morris. Chief Creative Officer Christopher Bailey said, "We've been exploring technology as a way of communicating to all our different communities for some time. I love that we can host an event like this in Hyde Park, take a piece of London and broadcast it all over the world to people wherever they are and whatever they are doing."
"Burberry World" was internationally accessible this year, with viewers watching the show on digital billboards, iPads, iPhones, and through partner sites. This was the first year that the event's content was streamed live in London's Liverpool Street station, Heathrow Terminal 5, and on LED screens on Burbery Beijing. The Tweetwalk also streamed live all around London, and with 860,000 followers on the popular social media site, Burberry is the most followed
luxury brand
on Twitter.
Over 1,500 guests attended the event including notable celebrities Rosie Huntington-Whiteley, Kate Bosworth, Will.I.Am, and Alexa Chung. Aside from Burberry's astounding connectivity, this year's show also featured a ground-breaking interior-exterior weather control system that immersed the entire event in a digital rainstorm, among other special effects. Bailey also said, "Everything from the British weather, music, the design process, the collection and more can be explored here. It's an incredible year for London and we want to share the energy and excitement here with our broad global communities."
The 2012 Burberry Prorsum collection included the integration of cotton gabardine, traditional British tweed wool, check silk and angora wool coating and sartorial herringbone wool silhouetted by bellow pocket paneled trench coats, cropped tailored bomber jackets, sculptural dress shirts, and tiered fringed dresses. The beautiful array of classic fabrics, textures, and shapes were accented by the new Burberry Orchard bag, Burberry Barrel Bag, as well as tweed peak caps, ruched waist belts, moccasin-inspired ankle boots, and the Burberry Field Boot.
For purchase information, or to view the 360 degree "Runway to Reality" technology visit
Burberry.com
.