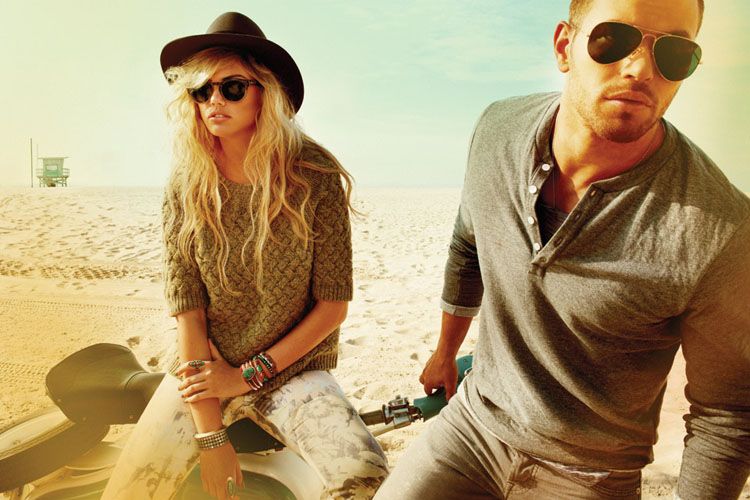 Photo Courtesy of Abbot + Main
Dylan George and Abbot + Main have launched their new Fall 2012 fashion campaign, California Dreaming. The Southern California inspired collection stars Twilight Saga actor Kellan Lutz, returning once again as the face of the brand, and model Kate Upton.
With the campaign photo shoot on the famous Venice Beach, the line effortlessly brings to life the exuberance and excitement of California youth, while maintaining that sense of
high fashion
that Dylan George is known for. lltitle=Abbot + Main Fall 2012 Fashion Campaign Channels Youthful California### llcontent='California Dreaming' is the newest Fall 2012 fashion campaign from Dylan George and Abbot + Main. With super model Kate Upton and "Twilight" star Kellan Lutz returning as the face of the brand, the line is filled luxury fabrics and a laidback California mentality.
Shot by noted fashion photographer Yu Tsai, the portfolio of images are beautifully framed before a setting sun, with light filtering through the warm ocean mist. The atmosphere is the perfect relaxed setting for such a light and effortless collection. Paired with the gorgeous campaign photos is a lush video that shows Lutz and Upton breezing through Venice beach in a Vespa and vintage Mustang convertible.
Co-designer of Dylan George's 2011 line, Lutz couldn't be more excited for the new launch of California Dreaming, saying, "Abbot + Main's knitwear are the essentials that every man and woman wants to live in – they feel great on the body and are built for every shape."
The California Dreaming Collection is the perfect array of luxury fabrics, perfect fits, and unique approaches to denim. From the flattering stretch to the leather piercings, the collection expertly combines the laidback California mentality with the high fashion quality Dylan George has become known for. With prices ranging from $148 to $198 for women's fashions and $158 to $228 for men's, the collection will be available within Nordstrom and Bloomingdale's nationwide.
"For fall we continue to demonstrate our commitment to achieving the perfect fit as well as introducing new, innovative washes and treatments," Danny Guez says, founder of Dylan George and co-founder of Abbot + Main. "The broad range of colors, finishes, and fabrics we're offering is unparalleled."
The women's styles are based on the new Runway fit, a mid-rise skinny that's been inspired by supermodels. The line has many colors, washes, and prints to choose from, including Watercolor, Morning Dew, and Coral, which can be seen on Upton in the campaign photos and video. The men have selvedge denim to look forward to, offering a 1% Lycra stretch that fits perfectly with the comfortable ease of California Dreaming. Other great styles for men include the Hooded Long Sleeve Henley and the Burnout Crew Pocket Tee.
For more beautiful photos and information visit
AbbotMain.com