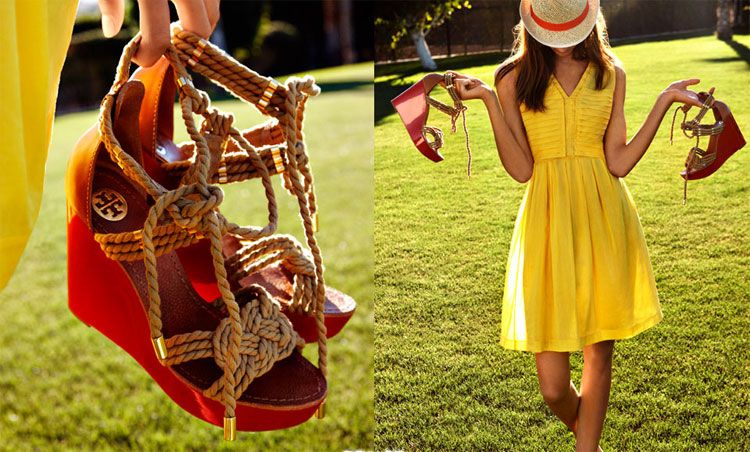 Why do we love Tory Burch sandals? The same reason why everyone else does: the
luxury designer shoes
are versatile, sturdy, and best of all, comfortable. Because the brand continues to produce several styles that suit many different occasions in each of its collections, Tory Burch has yet to disappoint us. This summer, the American fashion designer again lived up to our expectations of accommodating women with options, style, and comfort.
Tory Burch is best loved for providing, above all, comfort to her consumers in a stylish fashion. Thick cork soles in the wedges and platforms, while adventurously stylish, provide the utmost relief to women during the hot summer months. Fine leather sling backs are easy to walk in, and of course flat sandals are convenient and stylish enough to be worn with practically anything. Finally, the brand's trademark logo can become the glue to any ensemble while also adding a stamp of approval.
One favorite from Tory Burch's Summer 2012 shoe collection is the Deena Wedge Sandal. This summer shoe encompasses all of the elements that define Tory Burch: classy-casual style, flattering silhouette, and satisfying comfort. At $275, the manageable mid-wedge heel is decorated with a tangle of pewter or gold chainmail, giving an exotic glamour to the shoe. This sandal is a lovely fusion of fashion and function in distinguished Tory Burch style, and we can see it being worn to several events, from the pool with a cute cover-up to an outdoor barbeque with a chic cocktail dress.
The
Watersnake Alfie Sandal
is another great shoe for summer. The minimal T-strap can be seen in many Tory Burch shoes, but the watersnake detail puts an updated spin on a Tory Burch go-to. Of course, the universal Tory Burch logo is tastefully planted right on the ankle for a little charm. We love this $195 sandal because it can be worn with pretty much anything, from skinny jeans, to sundresses, to shorts. Better yet, they are appropriate for many occasions-- from leisurely strolls, to casual parties, to more dressy, formal events, these sandals add a great accent to any outfit. They also come in sand, patio green, and equestrian orange patent leather to complement your colorful summer wardrobe.
Finally, the bohemian Tarlen Wedge may be our very favorite shoe from this collection. Colorful and bold, this seventies-chic sandal features a one inch platform and 4 ? inch wedge, but don't let that scare you off. At $295, the rope detail, leather insole, and rubber sole provide the utmost comfort for the on-the-go fashionista, and the gold hardware helps make these wedges a summer fashion statement.
To view the full collection, visit
ToryBurch.com.