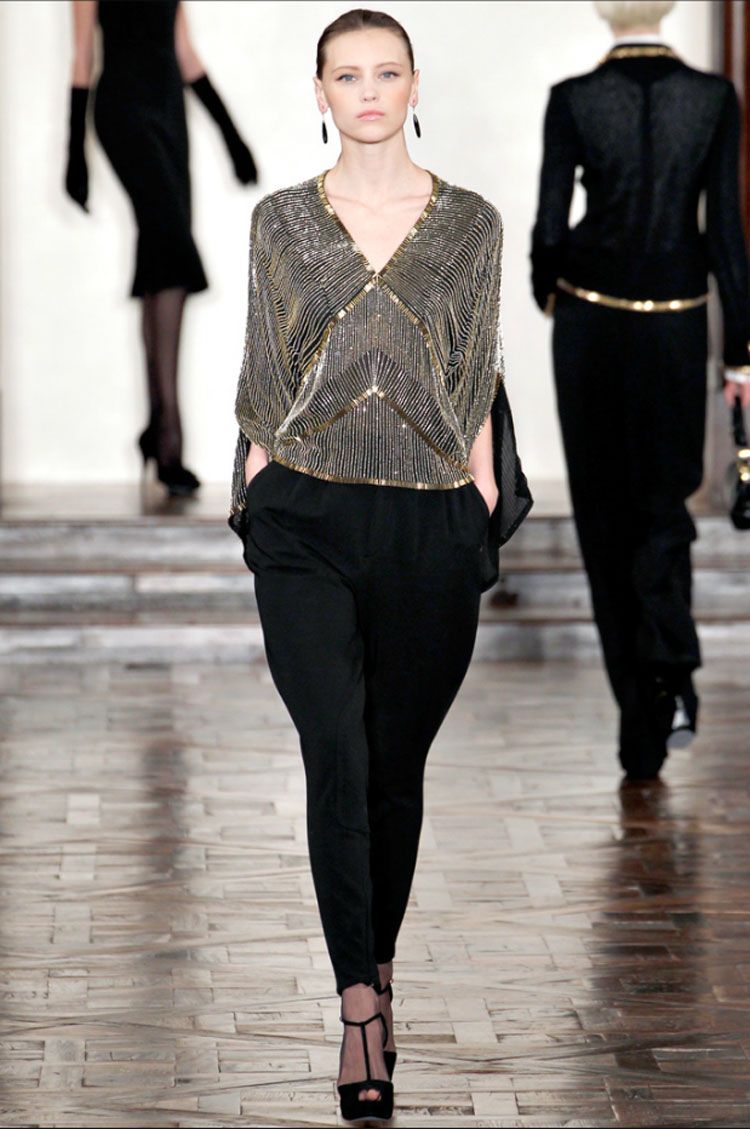 Photo Courtesy of Ralph Lauren
Luxury designer
Ralph Lauren's Fall 2012 Ready-to-Wear Collection is inspired by English fashion circa World War I. The fact that the soundtrack from
Downton Abbey
played when this collection was debuted on the runway should put any doubt to rest. Lauren's latest line for autumn consists mostly of feminine menswear with a contrasting— but welcome— addition of black and gold evening gowns for after dark. Overall, the collection represents a distinctive style that clearly transcends time.
The collection begins with boy-for-girl suits that mix tweeds, plaids, and checkers— clearly a nod to the past. The designer calls this look "country bohemian." We see the same materials and patterns over several different looks, but in different styles— quite the versatile pieces.
Though this line isn't the designer's most exciting, some impeccable outerwear certainly comes from it. The coats are the stars of the show, including fitted waistcoats and double-breasted blazers made of herringbone, plaids, pinstripes and even the subtle use of animal print which give the collection a hint of modernity. Accessories like argyle socks, plaid ties, and cloche hats add more theme— and a little spunk— to the collection.
The eveningwear goes a different route, but is clearly inspired by the Roaring Twenties and
The Great Gatsby
. Satin and velvet gowns play into a black and gold theme, however a couple of fuchsia hues make an appearance and add a pop of color.
Classic cocktail silhouettes in black silk and cashmere bouclé give elegance to this line, while elaborate beaded collars and embroideries allude to an Art Deco theme. A beaded flapper dress is included in this collection as well as column gowns in gold and platinum, which give it a sense of old-Hollywood.
To view the full collection, visit
RalphLauren.com
.