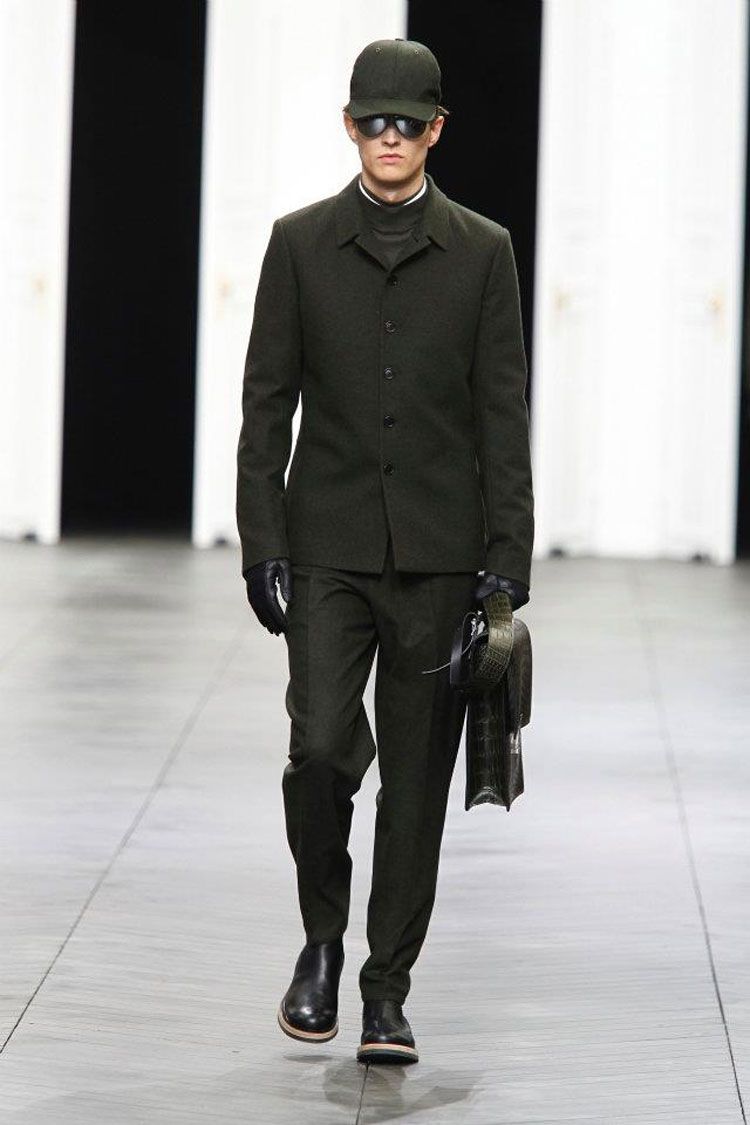 Photo Courtesy of Dior Homme
Luxury menswear
label Dior Homme has put out soft, refined looks the last several seasons, but its collection for Fall/Winter 2012 is completely the opposite. Called "A Soldier on My Own" by designer Kris Van Assche, the line features 47 new looks that stay within the lines of a largely olive green palette, laying the foundation for a military-esque theme. The recently-released film that was inspired by the line, though, serves as an elegant complement to the season's uniform-inspired offerings.
The color palette revolves around a shade that Van Assche calls officer's green, but also includes khaki, charcoal, and beige. Aside from the dark colors, the line sports other military references, such as the paper boy caps and aviator sunglasses that are added to almost every look. While the accessories add a mysteriousness to the models, they also solidify the theme of a World War II era to the presentation.
As for the silhouettes, pleated trousers are paired with army jacket blousons, on-trend two-button men's suits, and four- and five-button suit jackets. Though the suit jackets are structured, the slacks have a relaxed cut with a loose fit. Long, free-flowing coats are also prominent in the collection and have a modern, professional look to them, which we see throughout the accompanying video that took inspiration from the line.
SHADOW
by Dior Homme was shot by Belgian fashion photographer Willy Vanderperre. The suit, uniform and military green color palette from the label's Fall/Winter collection are clearly the main influences behind its latest film, which showcases a young man clad in Dior Homme during both the day and evening. The model presents the tough but refined components of the line by bearing the elements in New York City's Wall Street district.
To view the full collection, visit
DiorHomme.com