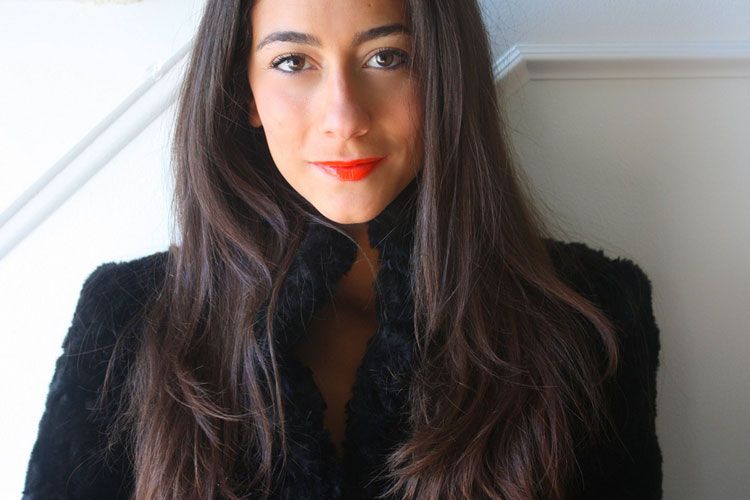 Photo Courtesy of Lindsey Calla
Meet the Stylist Series


Lindsey Calla Posted: October 2012 | Make a Comment
MEET THE STYLIST


Lindsey Calla Have you always wanted to ask your favorite designers, stylists and celebrities what they love to about their roles in the fashion industry? Or perhaps what they think the next big beauty or styling trend will be? Look no further than this exclusive series of fashion icon interviews by JustLuxe. So read on, as we bring you these answers and more ó direct from the fashionistas themselves. Some of the most famous names in the industry, including legendary TV personalities, have divulged exciting insider information and personal stories of their journey to the top just for our readers.
We were inspired to create this series after talking with three influential figures in the fashion world as they geared up as panelists for Simply Stylist New York, a three-tiered event that was held during New York Fashion Week to help fashion lovers get inside tips on all things style related. One of those young ladies is fashion blogger Lindsey Calla, who served as a guest speaker at Simply Stylist's New York Fashion Panel in September. Read on to get the inside scoop on Lindsey's story.

Blog: Saucy Glossie
Location: New York
Style: Contemporary
Favorite Brands: Tory Burch, Rebecca Taylor, Chloe, and Milly

JustLuxe: How did you get your start as a stylist? Did you receive any formal training in fashion?

Lindsey Calla: I did a ton of internships while in school at places like Seventeen Magazine and Prada which ultimately led me to a job in the fashion department at Cosmopolitan. Thatís where I really got a lot of training on what was in the market, translating and identifying trends for the real woman, etc. Now a lot of the styling that I do is for my blog and styling myself so itís not as traditional, in the sense that I donít do big editorials with fancy high-end pieces. A lot of my styling also happens on television so itís always really relatable and budget-conscious.

JustLuxe: What got you interested in fashion? Have you always been fashion forward yourself?

Lindsey Calla: I always had an interest in fashion and used to demand to dress myself for school, much to my motherís embarrassment! I was always creative but was so wrapped up in playing sports that I didnít have much time to explore that side. When I tore my ACL playing college lacrosse, all of a sudden I had all of this time to find other passions. I had started taking art history classes which ignited a whole new creative side of me and I expressed that through fashion.

JustLuxe: Are you creative in any other departments? Explain to me how you see fashion as an art.

Lindsey Calla: I always loved to write and itís great that I can incorporate some of that into my job now. I also love photography and art history. Iím very inspired by architecture, especially the clean and classic lines of Greek and Roman columns and that classic style has made its way into my outfit choices. Itís also something I try to feature in my blog pictures as well. I love finding locations with interesting architecture and I think fashion is all about your surroundings. Dressing up should be a reflection of your passions and your surroundings and expressing yourself through clothing is an art form itself.

JustLuxe: Which filmmakers/films do you turn to for style inspiration?

Lindsey Calla: Iím actually really interested in costume design in period pieces. I love films like The Duchess or shows like "The Tudors." Most recently I love Midnight in Paris for the costumes that Marion Cotillard wore and My Week With Marilyn because she was such a screen goddess.

JustLuxe: Who are your favorite designers? Why?

Lindsey Calla: Iím a classic, feminine girl so I always love Tory Burch, Rebecca Taylor, Chloe, and Milly. I also go for more accessible brands like Aritzia and Joe Fresh.

JustLuxe: Will you be attending New York Fashion Week? What are you hoping to see there? Any specific designers, trends, or looks?

Lindsey Calla: I love the Spring collections because itís always so vibrant and exciting! Iím a warm weather girl so I love to look forward to post-winter dressing. Iím always interested to see which way the trends will swing and if old trends will carry over or if the pendulum will start to swing opposite again. Thatís the fun of fashion!

JustLuxe: Whatís one trend that you are predicting (or hoping) will emerge in the near future?

Lindsey Calla: Weíve seen a lot of longer lengths in dresses and skirts so Iíd love to see the return of the mini and some leg. It feels refreshing to have fun with that again.

JustLuxe: Whatís one trend you never want to see again?

Lindsey Calla: Flatforms! There is something sexy about the lift a stiletto heel gives you so why take that away?

JustLuxe: What time period or decade do you feel had the best style?

Lindsey Calla: Iím a big fan of Grace Kelly, Katharine Hepburn, and Marilyn Monroe. The women of that time were so polished and classy but still so glamorous.

JustLuxe: Any personal favorite styling jobs, campaigns, or brands you have loved working with?

Lindsey Calla: I had a great experience working with TJ Maxx as their "Maxxinista" because it was always a dream for me to work with them and I just love the thrill of the hunt.

JustLuxe: Whatís been your favorite part of working your position in fashion?

Lindsey Calla: Being able to be creative on a daily basis. I love creating things and taking inspiration and ideas and making them come to life.

JustLuxe: How often do you interact with your blog followers?

Chef: Every day, multiple times a day! Iím always on social media channels trying to stay engaged in conversations.

JustLuxe: How do you keep them satisfied? How do you constantly come up with something new?

Lindsey Calla: Thereís always a natural evolution that occurs. As I evolve, so does my style, so it naturally changes and stays fresh over time. Itís a lot of work but Iím passionate about what I do so it doesnít seem overwhelming.

JustLuxe: What inspires your outfits or blog ideas?

Lindsey Calla: It can be anything from just waking up that morning and feeling like a certain color or style fits my mood, or perhaps there's an event or something I need to do and my outfit should reflect that occasion. Sometimes Iíll get something new in and want to work my whole outfit around that new item because it feels fresh and I'm excited about it.

JustLuxe: Whatís the key to always looking your best?

Lindsey Calla: Having clothing that fits and looks good proportionally to your body. Itís all about fit and proportion!

JustLuxe: Whatís your go-to Fall outfit?

Lindsey Calla: I love a great-fitting pair of slouchy cropped pants with a bow blouse and a hat... maybe even a pair of chic gloves to go with it.

JustLuxe: What are three Fall staple items you could never do without?

Lindsey Calla: A great coat, a gorgeous hat that frames your face, and a fab pair of knee-high boots.

JustLuxe: What is one item that you think all women should have in their closet?

Lindsey Calla: A chic, standout coat. As it gets colder, your coat is the first and only thing people see of your outfit when youíre walking around the street, so it should look ultra put together.

JustLuxe: What are some tips for dressing for your body type?

Lindsey Calla: First and foremost, KNOW your body type. Itís not about pointing out your flaws, but highlighting your strongest assets and drawing attention to those areas.

JustLuxe: What are some pieces of clothing or accessories you feel will never go out of style?

Lindsey Calla: A great trenchcoat will always be classic and timeless.

JustLuxe: Your focus is on fashion with a budget, but are there certain items that you believe are well-worth ďinvestmentsĒ that are essential to a wardrobe?

Lindsey Calla: I believe that you can have ďinvestmentĒ pieces without actually investing. That means identifying the things that will be classic and timeless in your wardrobe and look more expensive but actually arenít. I have a great sleeveless trench from Banana Republic that looks so expensive because of some unique details that I reach for over and over again.

JustLuxe: What is one fashion or beauty item that you love to splurge on for yourself?

Lindsey Calla: I love Oxygen facials from Mario Badescu! And I always hit up the Bergdorfs shoe sale twice a year to find some great deals.

JustLuxe: Do you have your eye on any specific items you want to purchase for yourself this Fall?

Lindsey Calla: I really want a lady-like bag and a chic pair of gloves. Time to bring classy back!

JustLuxe: What is your favorite fashion tip, rule, or secret?

Lindsey Calla: Be confident in yourself, shop smart, and embrace your unique personal style.

JustLuxe: How has living in New York affected your career? Would you be able to do what youíre doing in another location?

Lindsey Calla: Being in New York comes with a lot of energy that keeps me motivated. The competition is fierce and it helps you to not be complacent when you see other people working hard. Itís also great to have access to brands and their showrooms so you can easily go to meetings.