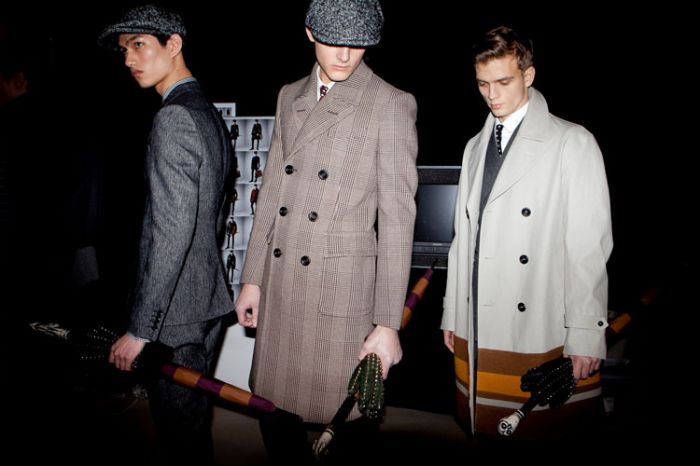 Photo Courtesy of Burberry Prorsum
The new year has just begun and
luxury menswear
designers are already representing their 2013 collections. One common phrase heard around the start of any year is "out with the old and in with the new," but what if some of the trends seen over the past seasons are just too good to toss just yet? 2012 was a fantastic year for men's fashion with retakes on classic pieces and infusions of bright colors. It may be a new year, but these trends are not nearly out of style. Let's take a look at five of 2012's best trends in menswear.
Topcoats
For cold weather, designers brought back a luxury version of this classic piece of outerwear. Functional and beautiful, the topcoat is typically well-tailored and gives elegance and sophistication to an ensemble. Scores of labels— like Dior Homme and Alexander McQueen— featured these on their runways. For a regal, dandy look, you can wear one in a solid, basic color as a monochromatic addition to a suit. For flair though, try experimenting with pinstripes or a funky design with a trimmed collar.
Photo Courtesy of Alexander McQueen
Double-Breasted Coat
2012's take on the double-breasted coat isn't the one you will find in your grandfather's closet. These are constructed for the modern man in sumptuous fabrics and vivid patterns. Polished and professional with an extra row of buttons, this jacket is a step away from the conventional sports coat, and will pull together an outfit in the short time it takes to put it on. Visually, it gives the wearer a look of refinement, and its lines should complement any body type. Prada endorsed their gothic versions in a celebrity-laden ad campaign.
Photo Courtesy of Prada
Colored Pants
Ladies usurped this item decades ago from the male wardrobe and have been tweaking slacks ever since. For men, pants are most commonly offered in dark colors, but now, they can have just as much fun with them as the ladies. In 2012, menswear designers brightened outfits with bottoms in fun and fresh designs. For anyone hesitant to go overboard, it is best to pair an exorbitant, psychedelic pattern with a simple top, like Marc Jacobs does here. Also, bright bottoms can be worn with equally colorful tops and outerwear to create some truly unique styles.
Photo Courtesy of Marc Jacobs
White
Such a simple color, but wearing it is a bold and daring move for anyone, male or female. Many remember the white pants of the '80s— ? la Miami Vice— and are slow to revive that tacky look. Thankfully, designers are recharging this classic color with a new infusion of style in pants, shirts, and jackets. Many, like Saint Laurent, Dior Homme, and McQueen, featured white on their runways, with a few models sporting it head-to-toe. Paired with a simple, dark shoe, white suits and pants look original and fresh. For a clean, fashion-forward look, white can be paired with pretty much any other color, except perhaps neon.
Photo Courtesy of Dior Homme
Bright Shoes
One of my favorite trends that I hope to see again in the future is the colorful shoe. This is a great option— even for someone who does not know how to accessorize. People will notice clothing first and the shoe will give your outfit that little extra flash. Some designers preferred trim in a neon color or a vibrant sole, while others really experimented with hue. 2012 saw Christian Louboutin introduce a men's shoe line, and he forged them with just as much originality and color as he does his women's collection. Vivid footwear can be worn with everything from a dark suit to shorts and a blazer, and they show the world you've got panache.
Photo Courtesy of Christian Louboutin