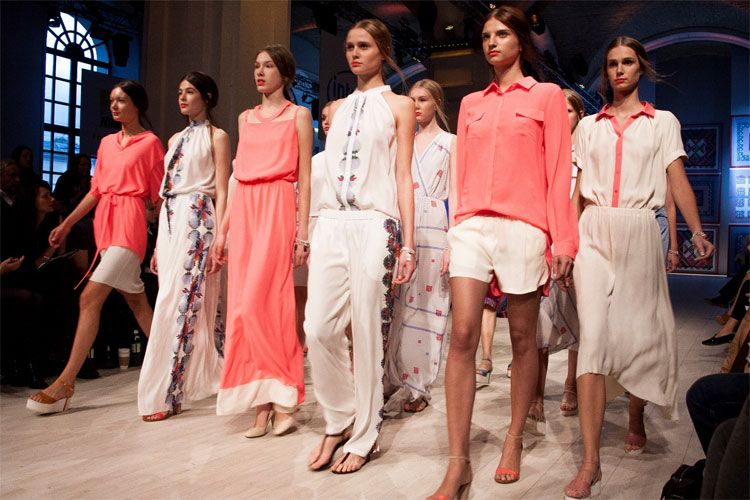 Photo Courtesy of Ukrainian Fashion Week
Anyone who has an interest in the industry knows that
luxury fashion
never sleeps. For example, it's the dead of winter and we're still bundled up in our warmest knits, meanwhile the Fall/Winter 2013 fashion shows kick off in global locations next week. And while New York, Milan, London and Paris host the most renowned Fashion Weeks known to man, there are so many other worldwide cities that set a week aside twice a year to celebrate the industry and its top designers. Here, we put together a list of the international Fashion Weeks you should become acquainted with.
Ukrainian Fashion Week
Twice a year, more than 40 participants gather in Ukraine to watch dozens of designers present their best looks of the season. Established in 1997 as the first professional fashion event in Eastern Europe, Ukrainian Fashion Week now attracts 25,000 guests to watch as established designers like Victoria Gres, ANISMOV, Yasia Khomenko, Anna October, Kostya Omelya, and Maria Bekh send their top creations down the runway. As of 2003, philanthropic projects that help search for and support talented Ukrainian youth became associated with Ukrainian Fashion Week, and other important projects like "Best Fashion Awards," "Holiday Fashion Week," and the young designers contest "Look Into the Future" are organized by and stem from the organization.
Photo Courtesy of Ukrainian Fashion Week
Tel Aviv Fashion Week
In December 2011, Tel Aviv held its first Fashion Week since the 1980s with Italian designer Roberto Cavalli as its guest of honor. One tradition established with Tel Aviv Fashion Week's revival solidifies a collaboration between Milan and Tel Aviv that will have a Milan-based designer show in Tel Aviv (Moschino was the guest of honor this past November) and a young Israeli designer present at Milan Fashion Week each season. With just three Fashion Weeks under way since its recent revival, fashion writers still describe the audience at Tel Aviv Fashion Week as "young," as the crowd is enthusiastic with the event's resurrection, unlike the demure faces in other established cities like New York. However, critics are hopeful for Tel Aviv's future in fashion— as eager, young designers like Dodo Bar Or, Israel Ohayon, Tamar Primark and Mira Zwillinger show promise.
Photo Courtesy of Tel Aviv Fashion Week
Pakistan Fashion Week
Pakistan held its first Fashion Week in November 2009, and has since flourished into a respected bi-annual international event. The Pakistan Fashion Design Council has held five Fashion Weeks with the global brand Unilever as well as two bridal weeks with L'Oreal Paris that have provided platforms for Pakistani designers to promote their culture's fashion in both local and international markets. The importance of Middle Eastern style shines through in events like Pakistan Fashion Week, as the blend of heritage and modernity in the designs seen on the runway is undeniable. With shows in Lahore and Karachi each year, designers like Nomi Ansari, Kamiar Rokni, Azeeza Desai Khan, Deepak Perwani, Islmail Faridpresent present designs that highlight Pakistan's tradition of rich textiles and elegant embroidery.
Photo Courtesy of Pakistan Fashion Week
Mercedes-Benz Fashion Week Africa
Fashion Week Africa has been in place for five years now, however this past October marked the inaugural season of Mercedes-Benz Fashion Week Africa since the luxury auto brand stamped its name on the event as the title sponsor of African Fashion International's three Fashion Week Platforms. The first Mercedes-Benz Fashion Week Africa show took place in South Africa's Johannesburg from the 24-28 of that month, where more than 40 designers from countries like Nigeria, Ghana, the Ivory Coast, Cameroon and Mozambique, as well as the diaspora based in Europe, the Caribbean and United States showed their work to a vast audience of both professional and public spectators. Sure enough, designers like Ituen Basi, Tina Lobondi, Loza Maleombho, Aisha Obuobi, and Amaka Osakwe showed creations that played on both traditional and modern esthetics of African fashion, including native fabrics and detailing.
Photo Courtesy of African Fashion International
Aurora Fashion Week
Established in 2010, Aurora Fashion Week serves as Russia's International Fashion Week and has occurred twice a year in St. Petersburg ever since. A style hub for Russia and Eastern Europe, St. Petersburg hosts approximately 20,000 people each season— both professionals and admirers of the industry. Now considered the third largest Fashion Week in Eastern Europe, Aurora Fashion Week is one of the key system events of both regional and federal politics of Russia in both culture and the fashion industry— all the while promoting interesting and talented Russian designers. Standouts from the event's Spring/Summer 2013 shows, which took place in November, include designers like Bosco, Kaminsky, Pirosmani, InShade, and The Frock.
Photo Courtesy of Aurora Fashion Week