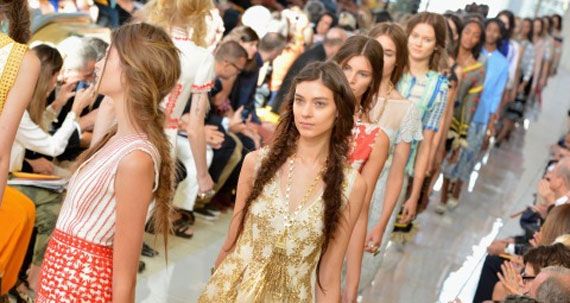 Photo Courtesy of Mercedes-Benz Fashion Week
Last week I wrote about
luxury fashion
shows that take place all over the world— and this week, Berlin was the latest to host the prestigious Mercedes-Benz sponsored event over in Germany. A number of talented designers— both established and up-and-coming— showed the collections that they've spent the last year pouring their hearts and souls into. And from what we can tell, Berlin Fashion Week is giving the Big Four a run for their money. Here, a few highlights that we've seen so far from the event, which started Tuesday and runs through Sunday.
Hien Le
The young Hien Le presented his Fall 2013 Ready-to-Wear collection in the prestigious opening slot of Berlin Fashion Week— an accomplishment of its own— and from what I can tell, the designer's newest line fits the bill. A leader of minimalist style in Berlin, Hien sticks to his guns for his fifth collection but adds a refreshing ombre to blouses and even a dress or two. Tone-on-tone looks of both winter white and sleek black make up the rest of the show in the form of Hien's favorite shirtdresses, blouson jackets, and loosely-tailored slacks. All in all, Hien's collection is simple and clean but still elegantly sophisticated an appropriate for everyday wear.
Barre Noire
The Fall Ready-to-Wear collection that Barre Noire's sent down the catwalk Wednesday is unlike any I've seen before. Based on the colors and prints of the garments alone, this is a line you'd expect to see in the spring season— or the eighties. But there's something about the boisterous patterns— paisley, leopard print, and reptile— paired with the color palette— a mix of earth tones and pastels— that just
works
. Consider the impeccable tailoring and use of materials like linen, wool and silk, and you've got a high-end line by designer Timm Süssbrich. And as separates, the blouses, paneled dresses, slacks and jackets are unique, cool, and completely wearable.
Lala Berlin
Designer Leyla Piedayesh brings the term "pretty in pink" to a whole new level with her Fall 2013 Ready-to-Wear collection for Lala Berlin. A plethora of prints and patterns make up nearly every single look she sent down the runway on Wednesday— Keffiyeh, in particular, is a staple of the collection, along with a black and white Inca print and an interesting angular graphic that reminds me a bit of Missoni's signature zig-zags. I'm a fan of Piedayesh's strict color palette of black, white, red, and rose— color graces many of the pieces, but the use of restricted hues works on the heavily-patterned clothing. Overall, Piedayesh's collection of slouchy knitwear, silk jumpsuits, long coats and miniskirts has a lot of personality and the designer's use of minimal but effective color in a season when earth tones are the norm is refreshing.