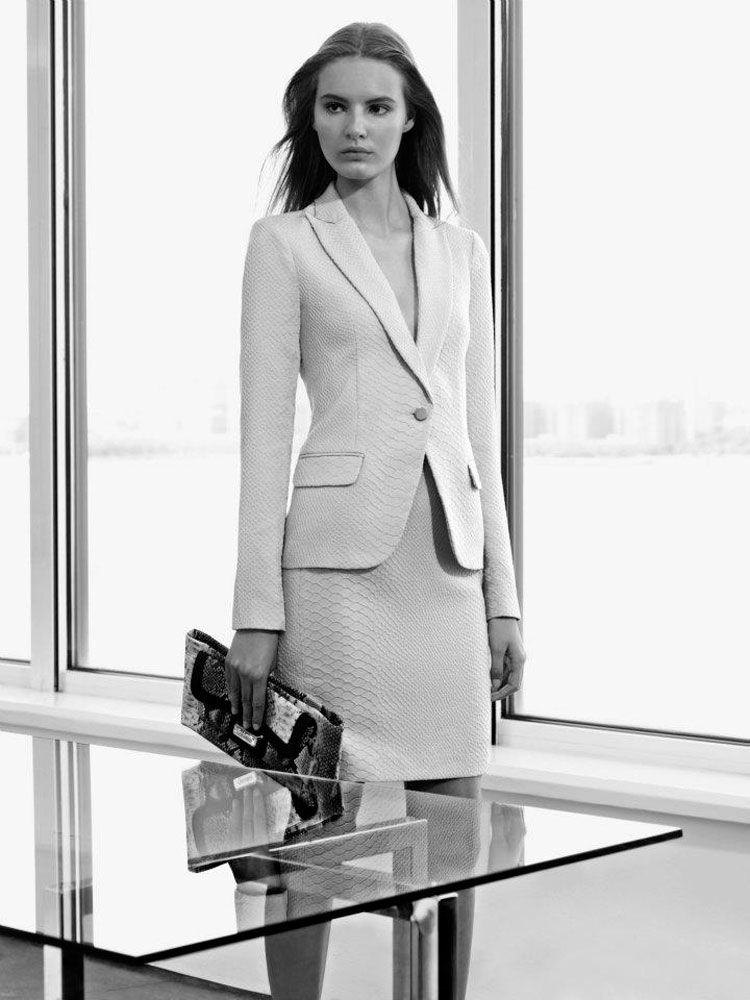 Photo Courtesy of Calvin Klein
Buying a
luxury suit
is often a difficult choice, but for women, knowing what kind of suit is appropriate for different occasions can be even harder. From the type to the style and the patterns or details, settling on a suit ensemble is no easy task. The good news is that you have options, and brands these days are providing several versions that keep your look up-to-date but also classic and, of course, professional. Here are a few of our top picks for your every need.
Professional
For business occasions like interviews, meetings, and any old day in a formal office, a solid-colored suit is the ideal option. A heavy, full-on wool suit is seasonally versatile and would be considered the most appropriate for the most formal of offices— and black, navy and grey are the classic tones. Many suits come in 3-piece sets with a skirt, jacket and slacks, essentially giving you two suits in one. And don't think that the skirt is off limits— a matching skirt would be considered just as befitting as tailored pants in a business setting— and sometimes a skirt is even thought of as the more formal choice. Just be sure to pair your ensemble with a plain white blouse to achieve a polished and professional look. We love Ann Taylor's Tropical Wool Suit set, which includes a variety of different style slacks alongside a tailored jacket and pencil skirt.
Evening
A suit isn't meant just for the office— a well-tailored suit is just as befitting for formal events like weddings, dinner parties, and even a theater outing. You have a little more room to express yourself here; fun, luxurious details like beading and ruffles are completely acceptable, as are more comfortable but elegant fabrics like satin, silk and taffeta. Colors and patterns are also more encouraged with eveningwear than at the office: florals, jacquards and paisley are popular prints at nighttime events, but make sure that the patterns line up at the seams of the shoulders and lapels. Zac Posen introduced some gorgeous options in his Fall 2012 collection, like the one pictured above. We love how the designer paired the bold pattern on top with a sleek black skirt and feminine ruffles.
Business Casual
Those who work in a more relaxed or casual setting may have more leeway to get creative with their office attire. Lighter fabrics like polyester, cotton or linen are acceptable in business casual settings, and you have the option to wear the pieces separately. You can even mix and match between different sets and experiment with color. At the very least, you can add a colored blouse beneath your more formal suits in a laid-back setting, and you also have the freedom to try more modern silhouettes and styles, like inset waistlines that would show off more of your figure than a straight-cut jacket. We like this cotton stretch suit from Calvin Klein, but would suggest wearing the pieces as separates with other neutrals that balance the ensemble.