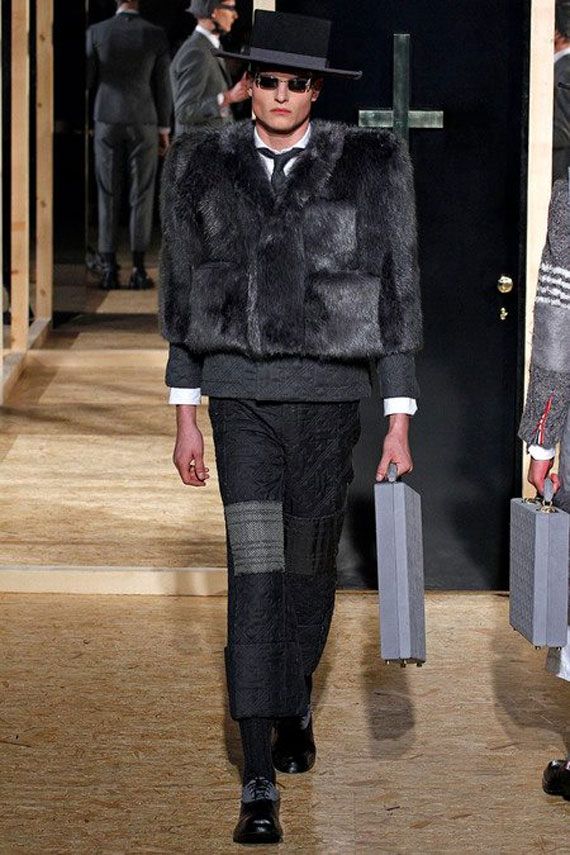 Photo Courtesy of Thom Browne
Luxury designer
Thom Browne has been making headlines as of late due to his stunning designs that were recently worn by the always-stylish FLOTUS, Michelle Obama, to her husbandís public swearing-in ceremony. Credited with revolutionizing menís suits, Thom Browne is known for updating classic silhouettes with unexpected proportions, and his most recent ready-to-wear collection for men falls perfectly in line with this principle.
In ensembles that appear to be a combination of English schoolboy and traditional Amish attire, the collection features an array of boxy piecesó from the oversized and ever-so-square hats to the full, ankle-grazing slacks. Jackets have stiff shoulder pads and are constructed with quilted and embossed fabrics. Some looks showcase an interesting eight-pointed star pattern, while others contain strips of fur layered horizontally along white cotton shirts and short, fitted coats.
In the runway show, houndstooth socks were held up by garters, adding a youthful vibe to what was otherwise a somewhat sinister display. The collection was far from boring, howeveró for a ready-to-wear collection, many of the looks would be difficult to don on a day-to-day basis. Still, with a womenís collection that was instantly catapulted into fashion stardom due to its elegant display on Michelle Obama, perhaps the event will also propel sales for his menswear line.
With that being said, Browne is notorious for pushing the boundaries of menís fashion and it was his shrunken suits that made him famous in the first place. Perhaps this is just the natural progression of the Thom Browne line, and his passionate and devoted fans will be clamoring to get their hands on his square and rectangular apparel.