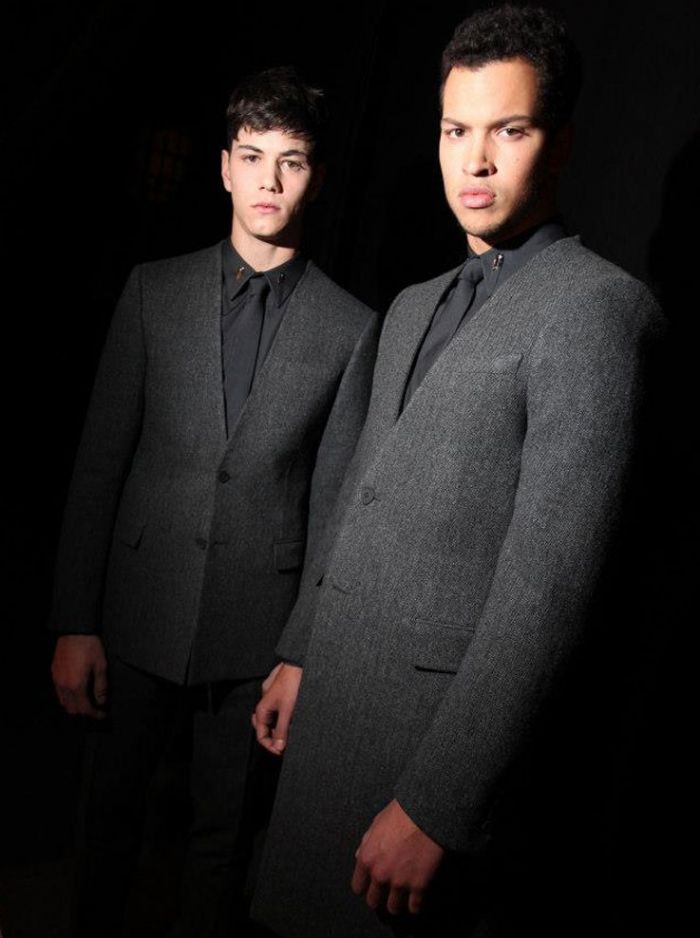 Photos Courtesy of Givenchy
Givenchy's talented
luxury designer
, Riccardo Tisci, is perhaps best known to the general public for his ferocious graphics. Last season, for example, his angry dog T-shirt was worn by a multitude of celebrities and then subsequently scattered all throughout the blogosphere. While this season's menswear collection for fall still features interesting graphics, they are far less "rabid dog" and much more religious and reminiscent of Latin culture.
Incredibly controlled and thrillingly chic, this line of men's attire features a collection of dark hues on refined silhouettes. The handful of handsome models who sported these designs last week strutted down the runway through a circular path of large pillar candles.
With a color palette consisting mostly of grey and black, suits and topcoats are beautifully tailored and carefully cut, showcasing fabulous fit and quality design. By stripping away the nose rings and man skirts that have been prominent at
Givenchy
shows past, the designer created a collection that— while far more refined and minimalist than previous collections, is still incredibly entertaining and exhilarating.
While the line in general is very masculine, showcasing ensembles with leather trims and details, (a characteristic that is now a popular trend since Tisci started applying it to his designs in one of his first collections) there were also moments that were a bit more sensual— including a particularly sharp-looking black velvet suit.
Not yet 40, Tisci is an incredibly talented designer who continues to evolve and mature with each and every one of his collections. His use of crisp shirts, black leather topcoats and blazers, along with graphic tees and slim slacks, is sure to have every style-savvy man rocking these sleek looks come Autumn.