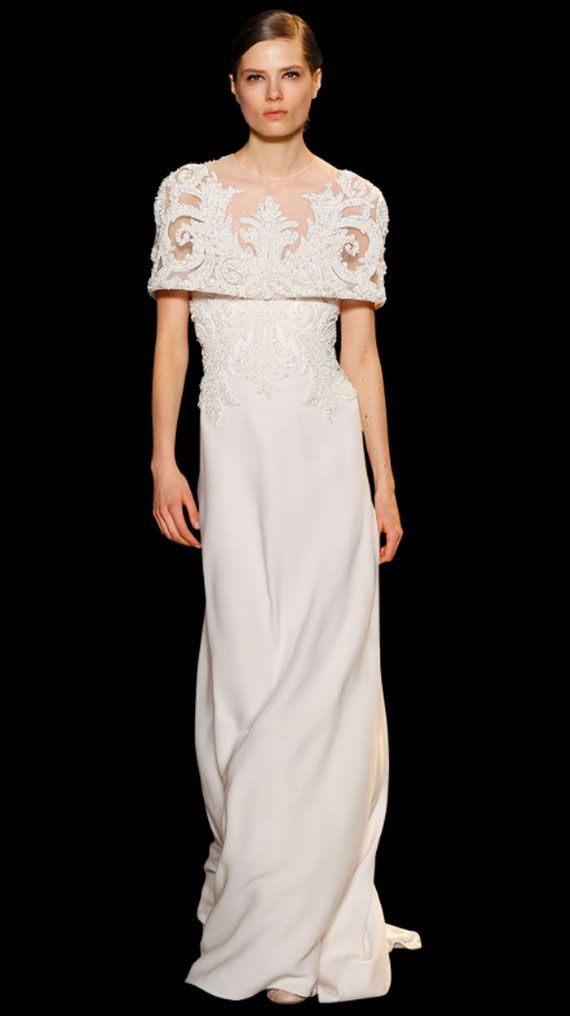 Photo Courtesy of Elie Saab
With delicate lace and different degrees of transparency, the materials used in
Elie Saab's
Spring Haute Couture
luxury collection
falls right in line with its aptly titled description, "ode to delicateness." Remarkably weightless in nature, Elie Saab's awe-inspiring designs stunningly flowed down the runway at Paris Fashion Week, showcasing dazzling beading and sparkling tone-on-tone crystalline embroideries throughout.
Every single red carpet-ready look was beautifully delicate and dainty with gowns that were feminine and demure. Strikingly intricate designs were shown in angelic ivories, icy blues, pretty pinks and radiant reds. Many of these gorgeous gowns had illusion necklines to show off the shoulders, along with floating silhouettes that brilliantly cascaded around the body.
Adding a contemporary vibe to what was otherwise a very classic collection was the surprise appearance of couture capes. Another aspect differentiating it from previous collections by this talented Lebanese designer was the use of a shorter, Fifties-style shape alongside his usual fishtail columns and hourglass silhouettes. The waistlines were drawn in with ultra thin belts, even further showcasing the subtleties of the feminine form— a particular design skill that Saab is famous for.
In our eyes, this collection couldn't have come at a better time— seeing as the Oscars are right around the corner, there are sure to be hoards of celebrity stylists fighting to get their perfectly manicured hands on these dramatically romantic couture gowns.
The combination of lace flowers, tulle, artisanal embroidery and a mostly monochrome color palette makes this collection one of our favorites this season— and in proper couture fashion, Saab ended the show with an extravagant wedding dress with panniers extending at the hips to create a finale that was very Victorian.