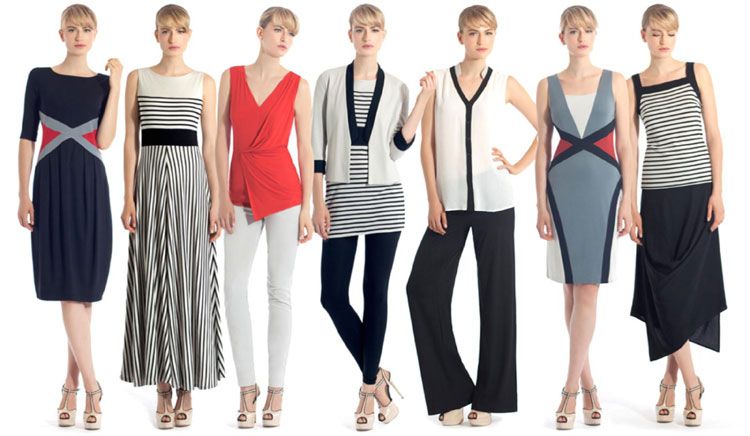 Photos Courtesy of Ronen Chen
At long last, spring is almost upon us. We would be lying if we said we didnít thoroughly enjoy all the dark and dramatic hues we've been able to rock this winter, but we are certainly ready to let go of the Elvira-esque look we've adopted and embrace the fresh colors of the new season.
Luxury brand
Ronen Chenís new spring collection provides ideal seasonal transition pieces that are just as appropriate for a morning meeting as they are for a weekend vacation.
Falling in line with
Ronen Chenís
previous collections, a monochromatic palette gives way to clean and simple lines with pops of color and artistic design techniques. Within this sophisticated labelís spring collection, four different themes contain their own personal looks and inspirations. The Metropolis group has cozy knits and dresses made of thick jersey and crepe that is ideal for bustling cities where spring weather doesnít necessarily mean warm weather. Angular lines and geometric shapes beautifully showcase the figure, all the while leaving the wearer comfortable and confident.
It wouldnít be spring without the appearance of trendy tribal patters, and the Savannah group showcases a beautiful nod to African safaris and rustic grasslands. Earthy and light-weight, these loose fabrics flow along the body for an airy feel that is both relaxed and chic.
The Ocean Blue group contrasts between deep navies, crisp ivories and nude pieces. Fabrics are flowy and cascade around the body, truly bringing to mind soft beach waves. With loose shirts and mini-dresses that look as if they should be found on a watercolor painting, this group is just as serene as the title implies.
For weekend attire, one needs ensembles that remind the wearer to let go and simply enjoy the moment, and the Time Out group does just that. Whether youíre in for a fun-filled weekend or youíre packing for your first getaway of the season, this group has sheer knits, cotton twill and light jersey fabrics that allow for carefree and effortlessly chic ensembles.