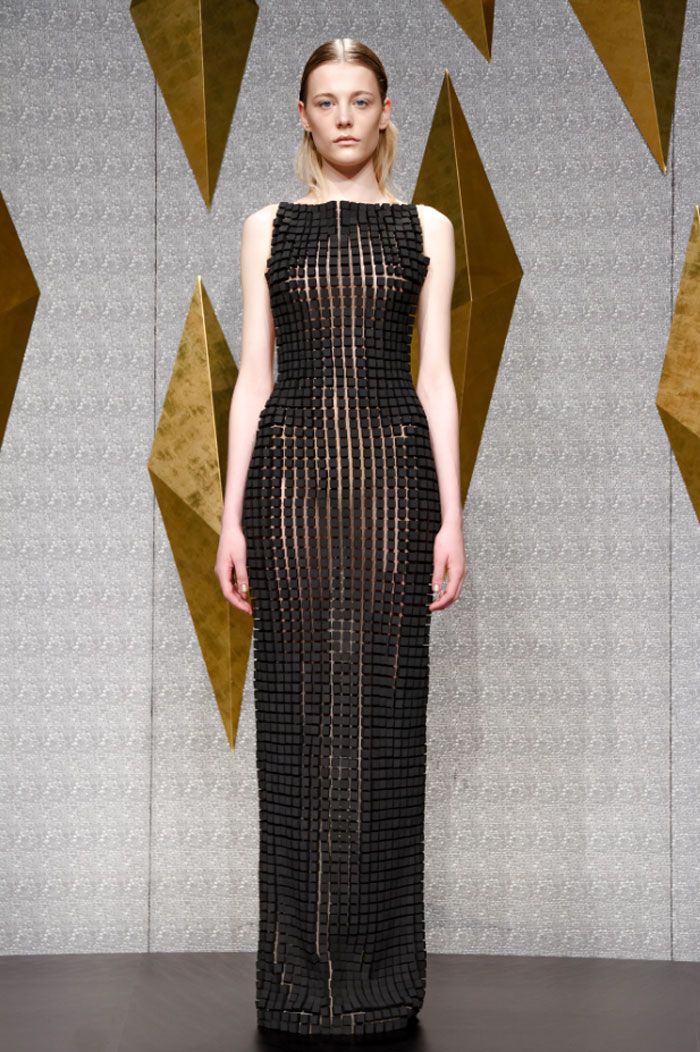 Photos Courtesy of Mathieu Mirano
Unafraid of taking traditional silhouettes and spicing them up with interesting details and flashy elements,
luxury designer
Mathieu Mirano's recent runway show for his Fall 2013 collection featured an array of asymmetrical designs and surprising cut-outs. Through the use of luxe materials such as chain mail, leather, fur and georgette fabric, the collection had a real Space Age feel while remaining tasteful and chic.
The fall line, said to be inspired by the concept of combining nature and machinery, includes soft and delicate elements that work their way into streamlined and tailored items. Employing both organic and metallic materials,
Mathieu Mirano
certainly has an innate knack for effectively utilizing quality fabrics and constructing ensembles that are both imaginative and wearable.
Classic closet staples are given new life through Mirano's eye for detail, as he was able to redefine what we have come to consider as "basics". Some highlights include this New York-born designer's beaver fur zip-up jacket and a pencil skirt that features small meteorite studs.
Styles, details and silhouettes slightly vary among the pieces in this line, however the collection flows with a fluidity thanks to Mirano's attention to design aesthetics. The line has a futuristic and geometric theme, as seen in pieces like a fox fur coat with a sheer, blocked window (an impressive construction to say the least) and skirts with leather paneling.
Although the collection itself may have a variety of shocking elements, the most surprising aspect of the Mathieu Mirano presentation was that the designer himself is only 21 years old. As one of the youngest designers showing at New York Fashion Week, Mirano has already accomplished a lot for his age. It will be interesting to see how his look develops and evolves as he grows within the fashion industry.