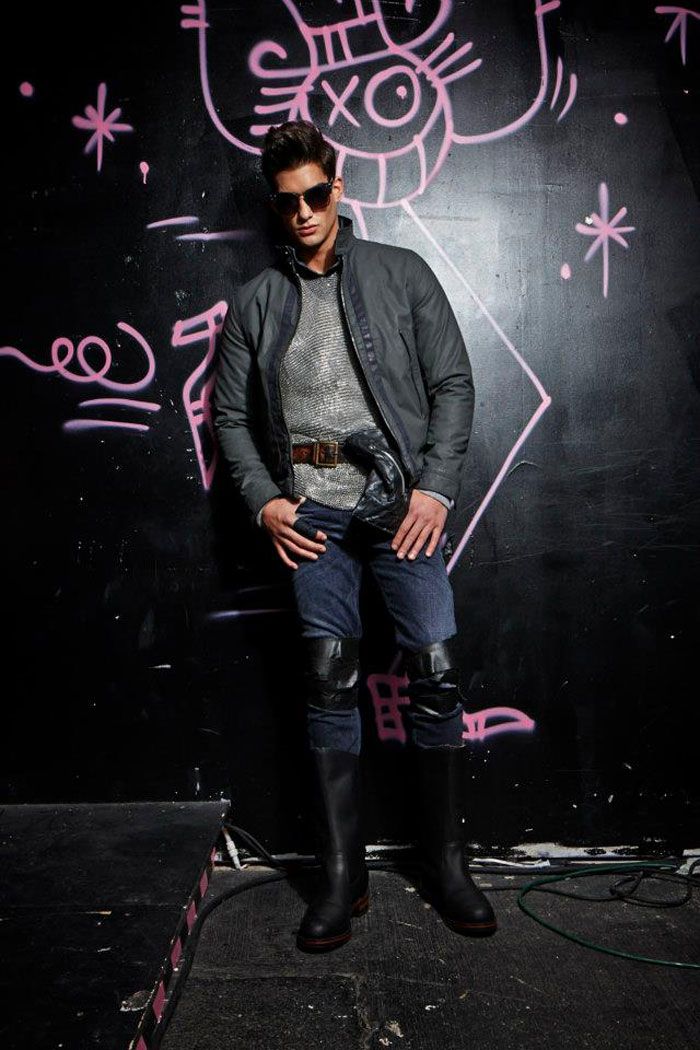 Photos Courtesy of Gilded Age
Elements of extreme roller skating, '90s grunge, and the notorious band of bikers in Hell's Angels can all be found in Gilded Age's men's collection for fall. The runway show appropriately took place at Chez André, an underground karaoke club in the Bowery neighborhood of
New York City
. This neon pink-infused environment combines rock 'n' roll, fashion, and a twinge of destruction— making it the ideal stage for
luxury designer
Stefan Miljanic's latest collection.
Male models donned slim skinny jeans in a variety of hues, all made of high-end Japanese denim and casually finished off with chunky combat boots. Channeling modern-day warriors and the rebellious youth of our generation, the
Gilded Age
collection was inspired by cult hits such as
Blade Runner
and
Mad Max.
Nearly every model was outfitted with a sleek leather jacket or vest— each in a variety of neutral tones— layered over graphic tees, thick-knitted sweaters, or fitted double-faced shirts in solids and plaids. Chainmail shirts were paired with perhaps some of the more interesting accessories we've witnessed this season: knee pads, shoulder pads, chest pads and elbow pads.
Highly reminiscent of a Quentin Tarantino film, one particular model sported a string of bullets in lieu of a belt with what appears to be gold wire wrapped around his bicep.
While some may think certain elements of this collection are a bit over the top, there are certainly many pieces of wearable fashion that a city man could easily strut through his borough in.