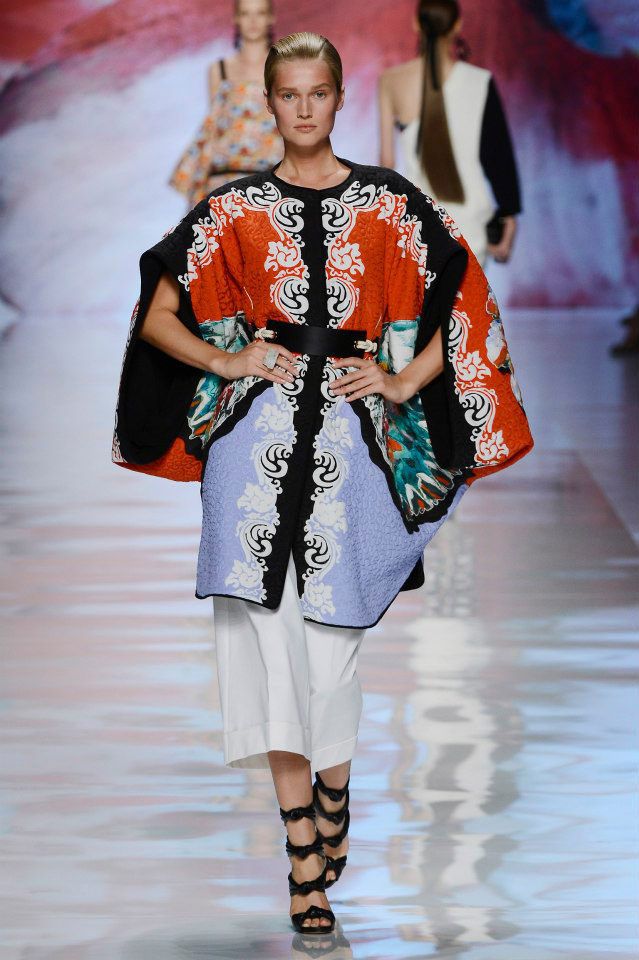 Photo Courtesy of Etro
What could be more stylish than slipping into an embroidered kimono top for a special night out? For this year's spring and summer collections, we are excited to see a trend among many designers towards Asian themes, complete with cherry blossoms, exotic shoes, and origami shapes. With so much attention towards the Far East nowadays, it is only natural that some
luxury designers
are honoring Chinese and Japanese traditions in their lines with specific fabrics and cuts that come from those regions. And with the recent celebration of the Chinese New Year, this trend couldn't be more fitting.
With designers making reference to Asian fashion in their collections for this upcoming season, we want to spotlight some of our favorite takes on the trend. We thoroughly enjoy how these designers reinterpret the emblematic motifs of the East for the modern, global customer. 2013 is the Year of the Snake, which could bode well for the fashion world, as those born under this sign are supposedly clever and mysterious with superior taste.
Etro's
ready–to-wear line makes heavy use of elaborately feminine and decorative Asian elements. Inspired by a set of Orientalist paintings, Veronica Etro decorated ornate fabrics with patterns of birds and flowers from the hand-painted originals. The line is thoughtfully sublime and successfully blends dazzling patterns with shapes reminiscent of the clothing worn by generations of Asian women. Tops feature luxuriously wide sleeves with simply crossed lapels that are clasped together with thick belts, kimono style.
Photos Courtesy of Etro
Etro creates an outfit that cleverly combines two distinct looks: a one-shouldered dress features one long sleeve that appears to be "draped over" a flowered panel. Something about this ensemble seems to reflect the modern changes in China— a society moving forward without losing touch with its traditional past.
The collection features a slew of floral prints with the occasional interspersion of geometric color-blocks here and there. Cuts are kept relatively simple with long flowing or fitted floor-length dresses and scarf tops. This entire line is cohesive as a nod to Romanticism with its prints and delicate shapes. Even if a visit to Asia is not in your near future, these garments will automatically transport you there with their beautiful and surprisingly comfortable looks.
The Spring/Summer 2013 collection by
Emilio Pucci
puts a modern spin on Asian themes and incorporates these elements into the label's own signature style. Creative director Peter Dundas's ideas may be based on thousands of years of tradition, but the resulting collection is one-of-a-kind. Many of the pieces feature extensive embroidery commonly found on Asian clothing.
Photos Courtesy of Emilio Pucci
Other extraordinary pieces from Pucci include the modern interpretations of a Japanese bomber jacket. These satiny coats display old-school tigers in gold or red-threaded embroidery perched high up on the chest. I particularly like a slim-cut coat in royal blue that was paired with a high-slitted skirt at the collection's runway presentation.
A kimono coat in olive green befit with golden tigers is gorgeous and could be paired with jeans for an exotic downtown look. The nod is subtle at times, with the designer placing threaded white dragons on sheer white bodices. Other instances are more obvious, with Chinese button ties fronting a Mandarin-collared shirt. But one of the most superb pieces is a kimono-inspired wrap in white silk. With wide, flowing sleeves, it hangs in luxurious layers with a trailing belt and is an exquisite statement piece.
The spring collection from
Prada
may not be as acceptable for streetwear as the other two, but it showcases the daring, cutting-edge ideas of the label's designer, Miuccia Prada. This year, she married the flower child aesthetics of the '60s with Japanese shapes. The whole line is remarkably futuristic with clothing that features dramatic slits and feminine silhouettes. The Asian inspiration is shown in garments like black open-panel coats with red stitching and cherry blossom motifs.
Photos Courtesy of Prada
Asian influence is further displayed in tops with shades of pale pink and light green. These off-the-shoulder creations feature rectangular sleeves and flower patterns on diametrical front panels. At first glance, they look like carefully constructed pieces of paper origami. The short skirts also speak of the East with thickly folded layers that give them a boxy feel.
What truly stands out in the accessories department for Prada are the shoes, as they are wholly inspired by traditional Japanese footwear. The Prada footwear is made to resemble okobo shoes, which are platform sandals that are worn with socks. Prada's versions are worn with either gold, silver, or red socks that have a separation for the toe. The platforms feature super high layers and are decorated with flowers and glitter— fit for the most daring of fashionistas.