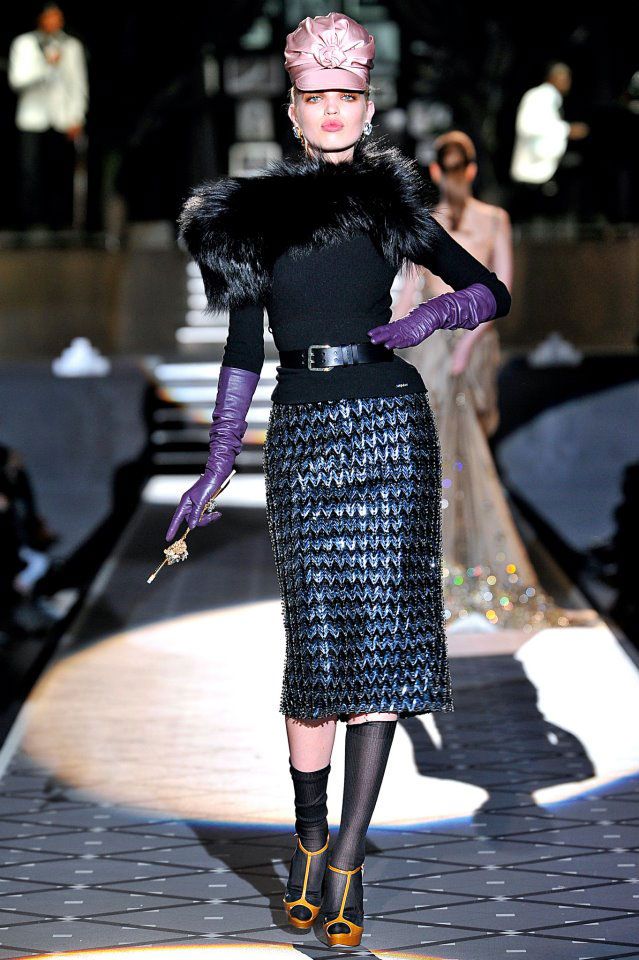 Photos Courtesy of DSquared
It seems pretty apparent that
DSquared2's
latest ready-to-wear collection is honoring the post-war glam of the Forties, channeling the sensual looks found in the smoke-filled jazz clubs of the era.
Luxury designers
Dean and Dan Caten tap into the vibrant period to draw inspiration for their women's fall line, featuring an array of accessories combined with a wide palette of rich colors and textures. All-in-all, the result is a collection with looks that are truly over-the-top.
For daywear, models confidently touted menswear-inspired suits accompanied by large brooches and topped with green, red, orange, or blue fedoras. Multicolored gloves and bow ties intensify these looks, while the sophistication of a simple black and white number comes to life with a lavish flair.
Double-breasted coats are accessorized with bursts of color from ornamental jewelry, ties, scarves, gloves, and clutches. In neutral hues like champagne, white, and black, the coats pair just as well with velvet skirts as with loose pants. This grey wool coat looks regal fitted over loose slacks with a hunter green fedora, lavender gloves, white cravat, and plum clutch.
Eveningwear is ornately feminine with floor-length gowns that are embellished with luxurious crystal accents, sequins, fur lattice-work, feathers, and velvet. Textural depth is seen on a body-hugging silk gown that is topped with a mountain of fur and paired with leather opera gloves.
Though the designers put together loud outfits to leave a dramatic impression on the runway, most of these pieces are suitable for everyday wear when worn as separates.