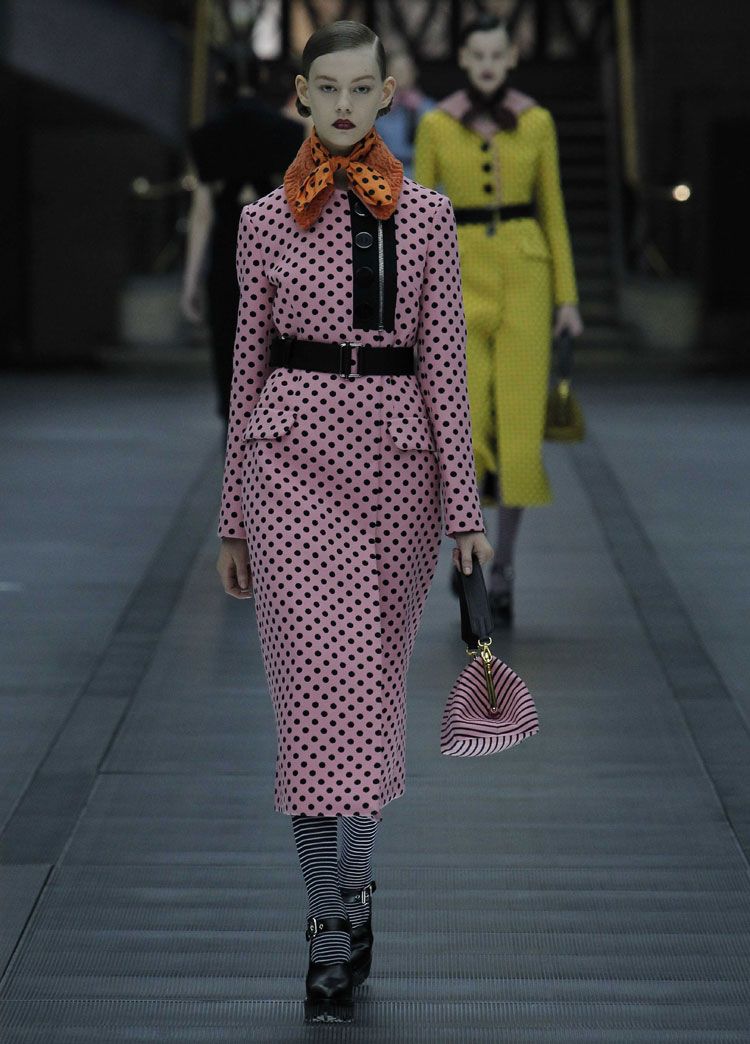 Photos Courtesy of Miu Miu
Luxury designer
Miuccia Prada offers fans a series of playful impressions alongside some seriously striking silhouettes in her women's fall collection for
Miu Miu
. The line's tone for autumn is a bit dreamy, replete with moody colors and theatrical shapes. Though darkly romantic, splashes of color do appear in the form of bright, diagonally striped skirts that peek out from under long coats and colorful neckties that sit primly atop polka-dotted ensembles.
Held in the historic Auguste Perret-designed Le Palais d'Iena in Paris, the front row of Miu Miu's runway show was packed with stars. Celebrity onlookers included Renée Zellweger, January Jones, and Zoe Saldana. Black metal grates covered the raised floor and suspended ceiling, with bright lights creating the illusion that the runway was floating in space.
Belted at the waist and boasting wide lapels, loose shoulders, and puffy arms that end in tight sleeves, Miu Miu's coats evoke a melodramatic aesthetic. Astrakhan fabric lines the collars, and the coats include large pockets and bold bottom-opening zippers. Prada also plays with an inside-out theme by constructing jackets from navy and orange quilted nylon.
Eye-catching silhouettes are produced by striped and polka-dotted skirts that flow out from under long, fitted coats and ribbed knits. With or without the skirts, the slim tops are simple and elegant in their presentation. Prada commands attention to the ankle by layering skirts over patterned tights and funky shoes for a look that seems to have walked right out of a Tim Burton movie.
Polka dots are in heavy rotation throughout the collection, and appear frequently on Miu Miu's slim dresses, long coats, and scarves. Displaying black detailing on plackets, buttons, and belts, Prada pairs dotted outerwear in pink and yellow fabrics with contrasting orange, red, and blue scarves for a reinterpreted '50s feel.
Speaking to a very hip clientele, Prada completes her theatrical looks with upbeat and fun shoes. Rubber lug-soled boots feature chunky platforms in a variety of bright colors with zippers and buttons running up their lengths to convey an otherworldly vibe.