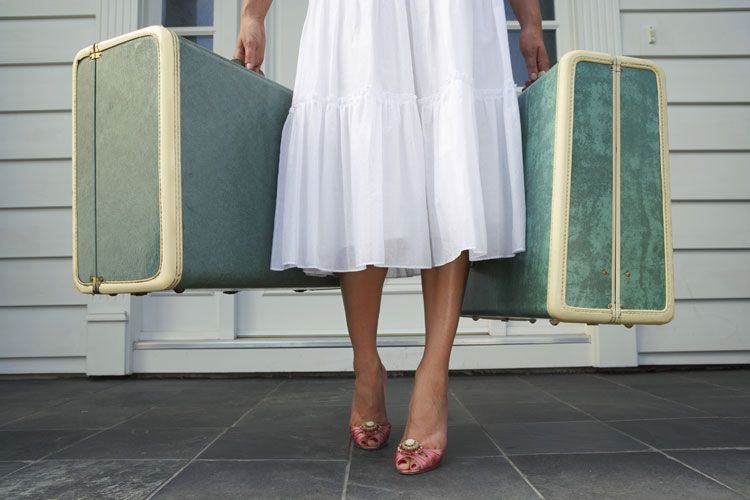 Photos Courtesy of iStockphoto/Thinkstock
So you've finally planned and bought tickets for that
luxury vacation
you've been vying over for months, and now it's time to take on the task that haunts virtually every woman: packing. If you're anything like me, it seems that no matter what you do to prepare for your trip, you always end up realizing that you either over- or under-packed by the time you reach your destination. While we can't physically be by your side to prepare you for other bumps in the road that you may encounter on your voyage, we
can
give you tips on how to dress appropriately for any kind of getaway you may be planning.
Beach Town
For a trip that is a luxury vacation in every sense of the word, high-tailing to a relaxing beach town is the way to go. We can't think of anything more rejuvenating than spending warm days lounging in the sand and watching sunsets on the beach in the evening. Another upside to a seaside getaway is the easy packing. Since you are sure to be spending most of your days getting toasty on a lounge chair, your wardrobe should be light and relatively casual. The most important items to pack are your bathing suits and a cover-up. Make sure that you bring a few swimsuits that you feel confident in, as this will essentially be your uniform for the entire trip. For cover-ups, try a chiffon dress or skirt— we love this piece by
EMAMO
. For dinners and evenings out, opt for garments that are flowy and festive. In doing this, you can stay cool and happily enjoy every morsel of your meal.
Urban City
One of the most important pieces of advice we can give you for your trip to any urban city is to avoid the dreaded "country bumpkin" look. This means no fanny packs, (hipsters, you are not exempt) oversized sweaters from your alma mater, or the all-too-gruesome sandal and sock combination. Aside from those deal-breakers, metropolitan cities are generally appreciative of personal style and usually have a hodge-podge of different trends scattered throughout the streets at any given time.
That said, along with jetting off to a big city comes upscale restaurants, fine art museums and chic evening entertainment, so at least half your attire should be well put-together and formal enough to be dressed up or down with the right accessories. This dress by
3.1 Phillip Lim
is certainly a showstopper that would be appropriate for a number of occasions. For tourist activities and sightseeing during the day, we recommend ensembles that are relaxed but thought out. If you are travelling during a warm season, cute summer dresses and comfortable sandals are best; but if you choose to vacation when it's colder, structured jackets and wearable boots that will last you all through the day are your best bet. If you've got somewhere fancy to go, remember that local city gals wear flat shoes during transit on the street and carry their heels in their bags. To top off your look, take our lead and try a two-tone jacket, like this one by
Marni
.
Europe
We mentioned earlier how unappealing it is to dress like an obvious out-of-towner, but if you are traveling to Europe, this piece of advice becomes even more important. As a tourist, you have to be wary of pickpocketers and scam artists, so looking like a clueless traveler won't get you very far. Avoid the all-American destroyed jeans, worn t-shirts and athletic shoes combination. Instead, opt for stylish skirts and dresses with sandals for the summer. Winter months in Europe get pretty nippy, so make sure that you pack heavy coats, thick scarves and warm hats. Black is the most fashionable color in Europe, so we suggest packing a lot of it if you want to look chic and fit in. This black mid-length jacket by
MM6 by Maison Martin Margiela
is a fabulous staple for touring the cities of Italy.
Be wary of your footwear— while you may think this is the perfect opportunity to sport those slinky Louboutins you just purchased, keep in mind that most European cities have cobblestone streets, and no one looks good covered in scrapes and bruises. If you just can't let go of the extra couple inches your heels give you, you could always stay super on-trend and try a pair of comfortable wedge sneakers, like these ones from
Steve Madden
. Also, if you plan on visiting cathedrals and churches while in Europe, remember that many religious institutions have a dress code for admittance. We love this button-down sapphire dress by
Derek Lam
that covers the knees, midriff and shoulders (you can always carry a light scarf with you if it is simply too hot.) In doing this, you may also avoid unwanted attention from frisky men (a hazard most commonly experienced in Italy.)
Safari
With an array of exotic animals and unique tours, a safari may be one of the most thrilling adventures you could go on. This is one trip that you are sure to come back from with stories a-plenty… and a thin layer of insect bites if you're not careful. The first thing you should consider is how you are going to protect your skin. The African sun is very strong regardless of the season, so always wear a wide-brimmed hat, protective sunglasses, sunscreen and insect repellent. But fret not, fashionistas: luckily oversized hats and big sunglasses are all the rage lately.
After you have your protective gear situated, we recommend casual and comfortable clothes for the safari itself. For a summer safari, lightweight and neutral separates are best, and this striped boatneck sweater by
Vince
is both functional and cute. By packing a variety of neutral-colored shorts, trousers and tees, you can ensure that you have a variety of different pieces to mix and match. You can pack the same items during the winter, but make sure to include a light coat like this
Free People
utility jacket, sweaters and a heavy winter coat.
Winter Wonderland
Lastly, for those of you that simply can't get enough of those winter wonderland vacations, here are some tips to help you avoid packing far more than you can carry. The first trick to packing success is making sure you'll be warm enough on a vacation like this. Bring one jacket for daytime activities (like this grey
Jil Sander
jacket) and one coat for the evening (this
Diane Von Furstenberg
cold weather cover-up is a great option.) Layers are going to be your best friend on this trip, so bring an array of basics like sweaters, cardigans and thermals, as they are practically weightless and are easy to pile on for warmth. An essential item in this equation is a good pair of snow boots, and we recommend this functional
and
stylish pair from
UGG. And don't forget your accessories! A few key scarves, shoes, hats and headbands will effectively give you a variety of different ways to transform your look each day of your stay.