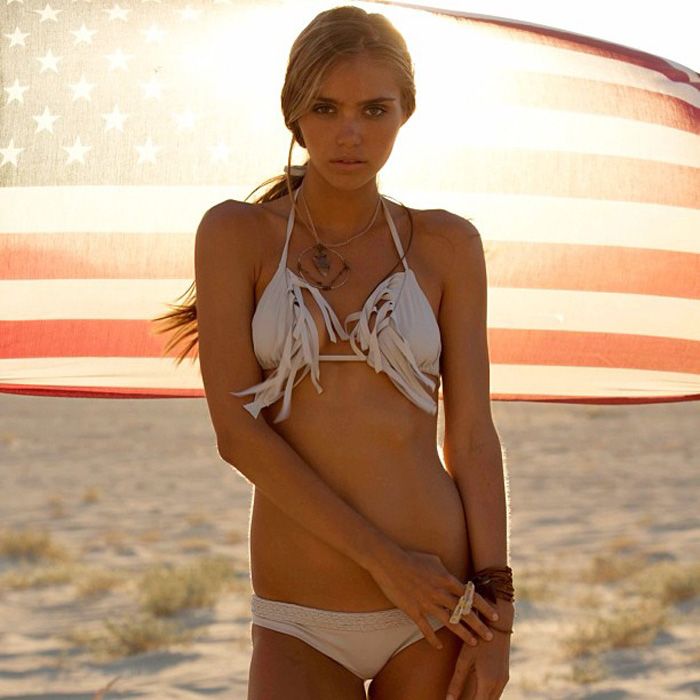 Photos Courtesy of Bows + Arrows
You can never have too many bikinis. Itís pretty much the staple of summer, you live in it, swim in it, and party in it. And while everyone loves the itsy, bitsy, teeny-weeny, yellow, polka dot bikini, it might be time to switch it up. The 2013 summer collection from California-based company
Boys + Arrows
, gives you the look of the American southwest with tribal prints, braiding, and fringe, in bandeau tops and hip hugging bottoms.
Founder and designer of Boys + Arrows, Meagan Scott, started the company because of her love of bikinis and the fun times she had in them. She wanted to make sure that women would enjoy the same passion for life that she did, in the swimwear she created. Spending her free time in tropical destinations, (no doubt traipsing around in a bikini) her collection is inspired from her travels and home life on the beaches of Ventura, California.
The collection is 100 percent Italian fabric made from eco-friendly recycled polyamide yarn and recycled excess material; itís designed to be quick drying and chlorine resistant, so you can keep those summer colors from fading. For longer days at the beach the material is also sand resistant and has 50+ UPF protection, plus itís made for shape retention, which is great if youíre crashing into the surf and canít quite get the hang of staying on your board.
Most pieces in the collection come in several different colors and prints, all of which are light and airy or fashion forward; there are no neons or harsh patterns reminding you of the 80ís style swimwear your mother still wears. Itís a combination of hippie surf culture and southern California cool. So whether youíre spending your summer days in the surf or lying on the sand, thereís no harm in looking good while youíre doing it.
Boys + Arrows is available online and in select stores across the country. Separates are sold individually and priced at $62-$100.