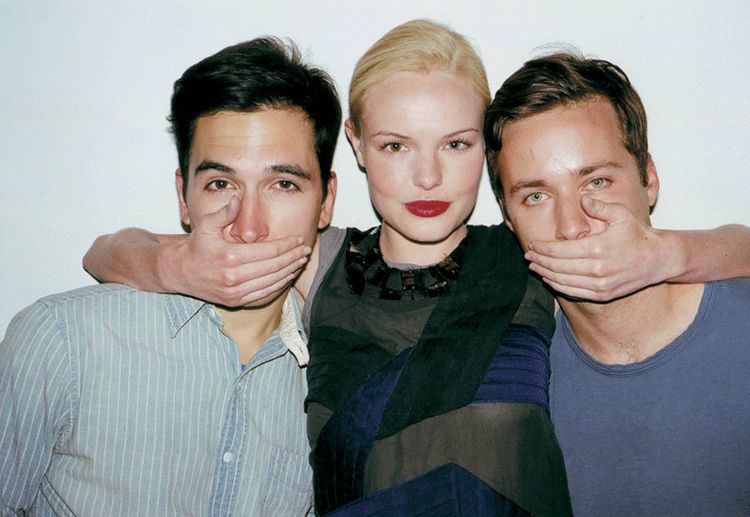 Photos Courtesy of Proenza Schouler
Jack McCollough & Lazaro Hernandez
Born: 1978, Miami and Tokyo
Best Known As: The co-founders/designers of Proenza Schouler
For every fledgling designer there's always the fantasy of making it one day. You finish school, a department store snatches up your collection, and the next thing you know you're showing your designs at New York Fashion Week. Vogue's Anna Wintour will back up your every move, while celebrities and socialites snap up your collection by the season. It may be a bit far-fetched and for some it will remain nothing more than a dream, but for
Proenza Schouler's
Lazaro Hernandez (left) and Jack McCollough (right), that dream came true.
Jack & Lorenzo with model Natasha fall 2006
Born in the Cuban neighborhood of Miami in 1978, Lazaro Hernandez was influenced at an early age by the women of his mother's beauty salon. Trying to start down a more realistic path than design, he originally began a pre-med education with plans to become a doctor, but Hernandez couldn't quell his dreams of wanting to be in fashion. The same year and halfway across the globe, Jack McCollough was born in Tokyo, Japan. His father was an investment banker with Merrill Lynch and McCollough spent the first years of his life overseas. At five his father picked them up from their home in Tokyo and moved them to New Jersey, where he grew up and enrolled in San Francisco's Art institute with plans of becoming a glass blower. Eventually McCollough changed his artistic career path to attend Parsons, where he would meet the other half of Proenza Schouler.
Jack & Lazaro with Stylist Samira Nasr in 2003
Hernandez attended
Parson's School for Design
in 1999 (with such famous alumni as Marc Jacobs,
Tom Ford
, Donna Karen, Derek Lam,
Isaac Mizrahi
, Narcisco Rodriguez, Anna Sui, and
Alexander Wang
) where he met his future business partner and best friend, Jack McCollough. The two instantly clicked and started forming a bond over their passion for design. "When I first met Jack, he was doing all this crazy Japanese-y thing that was very costume-y." Hernandez told
New York Magazine
. "I was very ready-to-wear, and so to me it was really fascinating. He brought this level of imagination to things. He was definitely way fantastic."
Jack & Lazaro in a fitting for Spring/Summer 2011
In 2000 while on a flight to New York, Hernandez spotted his idol and inspiration, Anna Wintour. Not having the courage to speak with her, he asked the stewardess to pass the
Vogue
Editor-in-Chief a note expressing his passion for designing fashion and his admiration of her. Wintour said nothing and no words were passed between the two. A few weeks later a representative of
Michael Kors
called Hernandez offering him an internship stating that Wintour had suggested he work there. He jumped at the opportunity.
Jack & Lazaro in a fitting in spring 2007
While attending Parsons, McCollough was also interning at well-known fashion house,
Marc Jacobs
, even spending some time with the fashion icon himself. Learning everything possible while working at the prestigious design firms, the two young students would soon come to the conclusion that silhouettes, colors and proportions were key to defining not only a label's personality, but also the longevity of the brand season after season. With their education coming to a close the two asked to be allowed to work on their senior projects together. Their professor was so inspired by the resulting collection that he contacted Julie Gilhart, fashion director for 
Barneys New York
, telling her that she had to see the collaboration. Upon viewing their pieces Barneys bought the student collection in its entirety.
Jack & Lazaro in a fitting in fall 2005
After Hernandez and McCollough graduated Parsons in 2002, the boys were left scrambling to streamline the collection to meet Barneys demands; they had yet to even create a name for their house. The pair settled on Proenza Schouler, a hybrid of their mother's maiden names, agreeing that Hernandez McCoullough didn't sound like a high end luxury line. "One of our biggest regrets is the name of our company," explains McCollough to
Interview
, "There are so many letters. Even coming up with a font was a mission."
Aside from choosing a name both would be happy with, the two were overwhelmed with the amount of work that needed to be done in such a short amount of time. With no idea how to tackle the business end, they enlisted the help of acquaintance, Shirley Cook, who is now currently the Proenza Schouler CEO. "After we graduated and Barneys bought our senior collection, we had to kind of scramble and get this thing rolling. I think our strengths are our design and, especially back then, in the beginning we had weaknesses. Shirley was a good friend and would come over after work at Helmut [Lang] and help us organize receipts, or Barneys gives you this big book of all these things you have to follow in order to ship, and we were like, 'What the hell is this?'" Mc Cullough told WWD. Now armed with a name and a little help on the business end, Proenza Schouler was ready for fashion week.
Jack & Lazaro photographed for the CFDA Journal
During New York Fashion Week 2003 the two designers debuted Proenza Schouler's introductory line. With distinctive silhouettes, colors and proportions the brand was an immediate success; amid rave reviews both heiresses and fashion editors were deciding then and there that they would take home the entire collection. From fashion week their popularity skyrocketed. In June of the same year the duo won the Swarovski/Perry Ellis Award for Ready-to-Wear and the
Ecco Domani Fashion Foundation Award
. These would only be the first of many won by the New York based designers.
Proenza Schouler runway shoes
In September of 2004 Proenza Schouler's first shoe collection was another stellar hit, and no doubt helped them win the $200,000
CFDA/Vogue Fashion Fund prize
for Promising Up and Coming Designers. On a meteoric rise the boys could do no wrong. By 2005 Movado had debuted a limited-edition Proenza Schouler watch and by 2006 the label was already nominated for its first CDFA award.
Jack & Lazaro accepting CFDA Womenswear 2013 Award
Teaming up with Target's GO International program in early 2007 made them accessible to everyone, and a common name on every fashionista's lips. The collection featured bright summer colors and cuts; palm frond prints and color blocking were staples of the line long before it was all the rage. Later that year they won their first
CFDA Womenswear Designer of the Year award
, tying with fashion veteran,
Oscar de la Renta
.
Proenza Schouler 121 Greene Street Opening Fall 2013
In the middle of a time where it was all about the luxury designer logos and "it" bags, (the market was flooded with Herm?s Birkins and Louis Vuitton Speedys) Proenza Schouler wanted to make a bag that went against the grain. "It was at a time when it was very much about an 'It' bag, and aesthetically those bags were very much covered in hardware and buckles and logos, and we kind of wanted to do something that was the antithesis of an 'It' bag in a way." McCollough told
WWD
. By December 2008 the handbag line was launched and the PS1 was born. A simple school inspired bag, this leather satchel was devoid of logo laden fabrics, sparkly hardware and was surprisingly subtle.
Jack & Lazaro after winning the 2013 CFDA award
Hernandez and McCollough went on to win the coveted CFDA award two more times, once in 2011 and again in 2013, beating out fashion icons like Alexander Wang and once mentor Marc Jacobs. For the duo, success is not about competing with each other to make their own mark on the Proenza Schouler designs. It's a blending of aesthetics that give the pieces their appeal, "If I was doing it alone, it wouldn't look like Proenza Schouler. If Jack was doing it alone, it wouldn't look like Proenza Schouler. What makes it look like Proenza Schouler is the combination of our two ideas." Hernandez told WWD.
Anna Wintour wearing Proenza during Paris Fashion Week
The two draw inspiration from the world around them, choosing from color palettes of vacations taken together and stepping out of their New York life to get away; but their greatest inspiration is technology and how to utilize it to advance designs. "At the end of the day, the human body has two arms, two legs and a torso. A lot of the shapes that can be worn have already been created." Hernandez explained to WWD, "It's not about three sleeves or three pant legs or anything like that. For us, it's about the surface. That's what the future of fashion is. It's technology. How do we use technology to create new fashion?"
Dress from Fall/Winter 2013 in the July Issue of Vogue
For the Proenza boys it doesn't look like their fairytale will end any time soon. With fashion powerhouses pushing them forward and the love-affair of Hollywood celebrities supporting their every move, there's nothing standing in the way, except maybe each other. Although one of the most stellar teams in design, admittedly it can be a little trying sometimes, even when it's all for the best. "It's hard separating work from personal life," says McColloughin in his New York Magazine interview, "We'll get into an argument about a button at work and then when we leave it's like, 'Don't talk to me. I'm still mad at you about that button.'"
Jack & Lazaro in the Spring 2013 issue of T Magazine