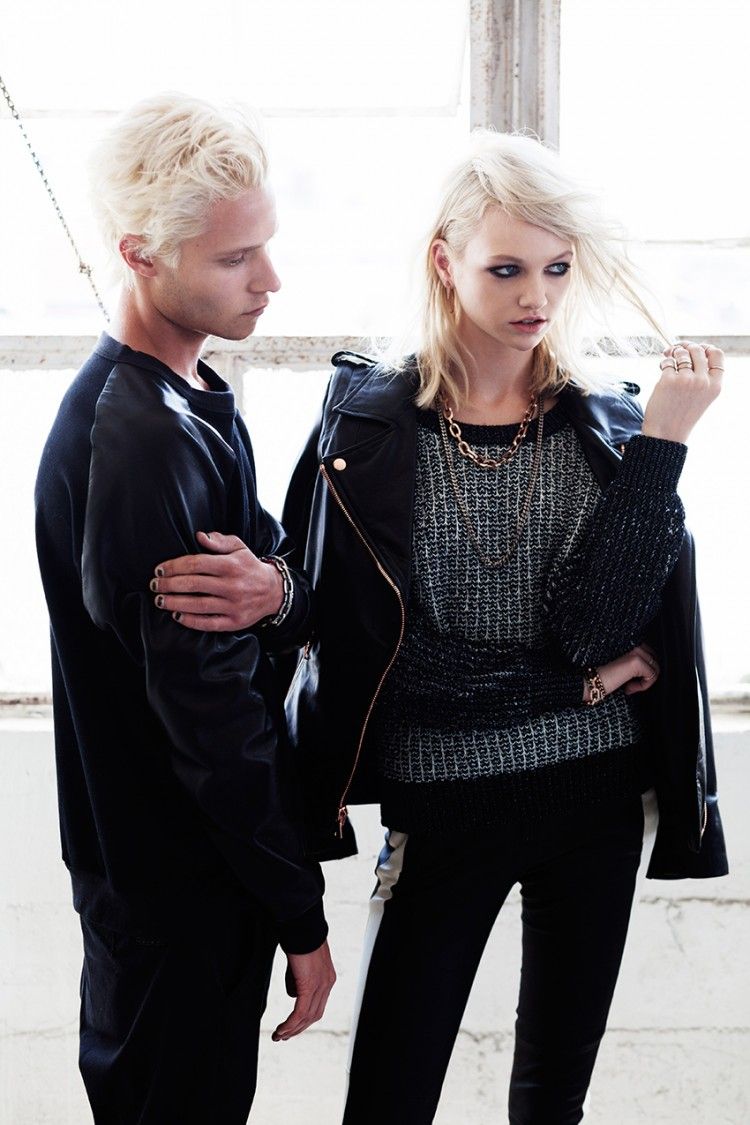 Photos Courtesy of Luv Aj
What do you do if you can't find the perfect motorcycle jacket? Well, if you're Amanda Thomas of Luv Aj, you make it. The jewelry designer has been churning out covet-worthy baubles for the past 10 years—to great success, we might add, as Miley Cyrus even wore Luv Aj rings in the viewed-over-330-million-times We Can't Stop video—but she recently decided to venture into a whole new territory: leather. "I felt the urge to try something new and challenge myself this past year," Thomas said. The result? A 25-piece collection complete with bomber and moto jackets, iPad and computer cases, each as cool as the next. We recently chatted with the designer about launching the new leather collection, her hands-on approach to business (she still ships out orders herself) and jetting to Bali.
JustLuxe: How did you go about designing the leather collection? How was the process different or similar to making jewelry?
Amanda Thomas: I just wanted to create simple, wearable pieces, and most importantly: the perfect moto jacket. I researched for months, trying on jackets at my favorite stores, studying zippers and trims, and every little detail that goes into making a jacket. Then I found an incredible leather sewer in Downtown L.A. and worked with him to develop samples. It was a lot of tweaking, but I'm really happy with all the styles we came up with. Our classic moto is a convertible jacket—the sleeves zip off, so it becomes a vest—kind of perfect for L.A. weather when it gets hot out. The bomber jacket is just oversized enough to feel masculine, but still very wearable. And the sweater is comfy and chic. The process is very similar to making jewelry. You sketch out your idea, and then run through rounds of samples until you get the perfect product.
JL: What made you want to expand from jewelry to leather?
AT: I am obsessed with leather. My entire closet is packed with leather jackets, pants and shoes in all black, so it seemed like a natural progression. I had to start from scratch though—finding new manufacturers and sourcing materials—but it was fun. It brought me back to my early days when I was just figuring it out with Luv Aj.
JL: How hands-on are you in your business?
AT: Very. More than I'd like to be. [The company is] still very small—we have four full-time employees and kind of have our hands in different baskets. I still answer all customer service emails, I still ship my own orders (even though I hate it), and I still make some of the pieces myself. It's important to me that my products are of the highest quality and my customers are happy as clams, so putting in the extra effort to me is necessary.
JL: Tell us a little bit about how you started Luv Aj.
AT: I started making jewelry in 2004 when I was 14 years old. I used to intern for a designer on Abbot Kinney in Venice, CA. My parents would drop me off after school and on the weekends, and I would help in her studio. She taught me how to wire wrap and gave me insight on running a small business. I just fell in love with it, so I started buying chains and beads on my own, going to flea markets, and finding vintage chains and components to work with. I would always wear my own creations, and one day when I was shopping in Fred Segal, one of the jewelry buyers saw my necklace and next thing you know, they picked up my line my junior year of high school in 2004. And that's when Luv Aj was officially created. My only jewelry design training came from that internship during high school. However, I went to Otis College of Art and Design in L.A., and my art school background has really informed my experience as a designer. I studied graphic design in college, and had internships in all areas of the fashion industry, with designers, PR firms, and magazines, but I always came back to jewelry because it was really what I was most passionate about.
JL: Who is the Luv Aj girl?
AT: I'd say Luv Aj jewelry is one part feminine and one part badass, so the Luv Aj chick can be a lot of girls. I think edgy and confident customers are drawn to the line initially, but there is honestly something for everyone to wear. The Luv Aj girl is the kind of girl who plans her outfits around her accessories, not her clothes.
Photo Courtesy of RCA Records
JL: What has been your favorite career highlight thus far?
AT: Oh man, that's so tough to say. This past year, I got an email that Miley Cyrus wanted some of our jewelry, so I packed her up a big box and shipped it out to her not thinking too much of it. A few weeks later, her video for "We Can't Stop" and the main image that appeared on Vevo and all the major news outlets was a close-up with her just laced in Luv Aj rings. The video went viral, as did my rings, and it just really put me on the map. It was a really cool moment for me.
JL: What has been the hardest part of running your own business? What's your favorite part?
AT: The financial responsibility is the hardest. And the satisfaction I get from seeing my ideas come to life is my favorite.
JL: Where do you draw the line between saleability and innovation? In other words, have you ever been tempted to make something because you think it will sell well, and not necessarily because you love it?
AT: I deal with this all the time. I think it's good to be creative and innovative but at the end of the day, having your company remain profitable is most important. I tend to like simple accessories though—so I never veer too far off the beaten path—but sometimes I have to simplify my ideas to appeal to my customers, which is more than fine by me.
JL: How do you react when you see a celebrity wearing your line or see it featured in a magazine?
AT: It's surreal at times, but fun to see the journey of where a piece starts to where it ends up. I was born and raised in L.A., so I'm blessed to have made a great network of friends who are supportive and help me out with these kinds of things. It's always a group effort!
JL: What does your own jewelry collection look like (other than Luv Aj pieces)?
AT: Lots of vintage, and some Alexander McQueen skull pieces (I'm obsessed). My sweet boyfriend has helped me up my diamond game with some beautiful pieces from XIV Karats too, which I wear on the daily.
JL: What's your favorite item in your wardrobe and why?
AT: My leather jackets—I have so many of them, I can't just pick one! But they are my babies, I love them all so much.
JL: What's next for Luv Aj?
AT: Lots more leather! I'm expanding the line to include shoes and bags for SS15, so I'm heading back to Bali this year to develop all the samples. I'm really really excited about it.