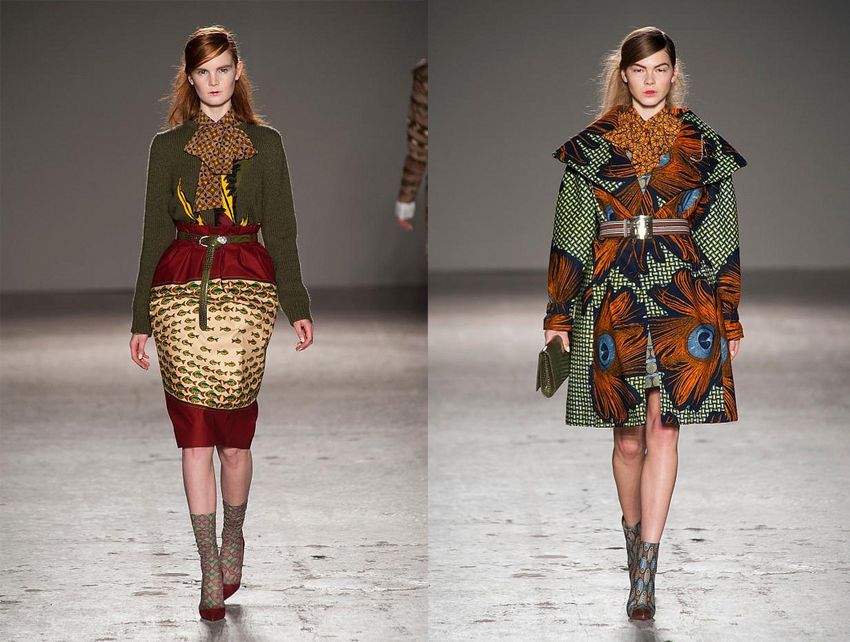 Photos Courtesy of Stella Jean
There have been a few designers during these past couple of fashion weeks that were clearly not bothered by the fact that a Fall/Winter lineup usually calls for subdued colors—and Stella Jean was one of them. For the last day of Milan Fashion Week, Jean sent bright colors, heavy layers and funky prints down the runway. Despite the carnival of shades, it was well pulled together, blending traditional shapes and experimental silhouettes into one interesting collection.
Inspired by both the Kabuki theatre and African tribal prints (not two things that one would normally see together), the combination unexpectedly worked, taking shape from one and patterns and colors from the other. Dresses were wrapped like kimonos and cinched with thin leather belts, while bulkier items like jackets and coats were closed with obi-style belts. By only using one element at a time, Jean stays away from any obvious inspirations and allows the collection to become its own entity.
The mélange of print, while at first glance seemed like an unpredictable jumble, actually had a little reason to it. Tights matched with accompanying dresses, but in a slightly altered state—patterns were turned sideways, resized or done in a different hue, but they were matching—even shoes and accessories played off of the print on each outfit. Abstract florals and animal prints were popular in the collection and looked fun when does with a light hand, some of the giant roosters, however, we could live without.
Long, floor-skimming coats have been making a serious appearance on the runways and this show absolutely tapped into that new trend. Done in both bright and muted colors (one of the few nude pieces in the collection), this cape-like outerwear was styled with both a mini jumpsuit and pant and jacket set, displaying the versatility of each coat—it will literally go with everything in your close—provided you don't mind a little print mash-up.
The shapes in the collection were undoubtedly whimsical, and varied from '50s-styled frocks to giant bell-skirts to thin, wrapped dresses. We could do without some of the larger silhouettes, but as conceptual designs they're wonderful. Sure, we may not necessarily want to fill our closets with the entire collection come fall (can you imagine the rainbow in our closets?), but a few keys pieces will definitely make for an interesting winter wardrobe.