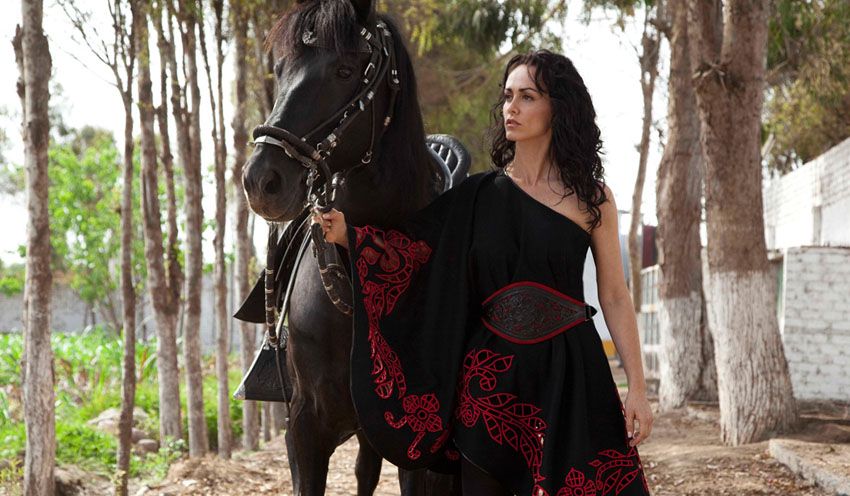 Photos Courtesy of Claudia Bertolero
For fashion we normally look to Paris, Tokyo or New York for up-and-coming names of sartorial genius, but brilliance can be found anywhere—even the streets of Lima, Peru. Designer Claudia Bertolero creates pieces that are distinctive representations of her culture, passions and heritage, and while not meant for all women, the line encompasses some truly daring styles that we would be hard pressed to find on the streets of Fashion Week. But that's why we like it. With soft, feminine designs, equestrian detailing and a little Peruvian flair, this collection makes us want to travel to the streets of Peru—or at the very least New York where we show off our cool new pieces.
Born and raised in Lima, Peru, designer and founder Claudia Bertolero has had a longer education in fashion than most CFDA veterans. Starting her education in Florida at the University of Miami and taking Business Administration and Marketing at the Miami International University of Art and Design, she studied fashion merchandising before moving to Milan to work at both Prada and Versace. Taking classes in Interior and Textile Design at the Italian Insituto Europeo di Design, she spent her time in Milan split between work, school and shopping along the streets of the world famous Via Montenapoleone. On a trip back home to visit family and friends, she was gifted a horse and immediately fell in love with the equestrian sport.
Drawing from the equestrian lifestyle as inspiration, Bertolero began to incorporate aesthetic touches from the sport with a mix of Peruvian culture to create a look that was entirely her own. She began to gain recognition in her home country, winning the International Competition for Young Artists in Lima, but Bertolero knew she wanted more, and moved to Paris to study at the Ecole de la Chambre Syndicale de la Haute Couture Parisienne. While there won the Young Artists Competition of Fashion at the Carrousel du Louvre and further strengthened her portfolio.
With two main collections, Claudia Bertolero and Claz, the line is split between simpler, more subdued styles and those with added pop and flair. Personally we're fans of the Claudia Bertolero collection which has more trimmings, fabrics and color than we might dare to wear at once—but it doesn't mean we aren't tempted to try. While her earlier work starts off a bit shaky, progression can be seen throughout the seasons until we're left with a soft, white summer collection that makes us want to ride a horse bareback along the Peruvian seashore.
Summer lineups rich in whites, pinks and blue capture the spirit of the season with muted accessories allowing the beauty of the cut to take focus, while fall and winter pieces are rich in deep browns and reds, with excessive accoutrements that add to the personality of each piece. We love them both and would have no problem adding them to our closet season after season—now we just need to get a horse.