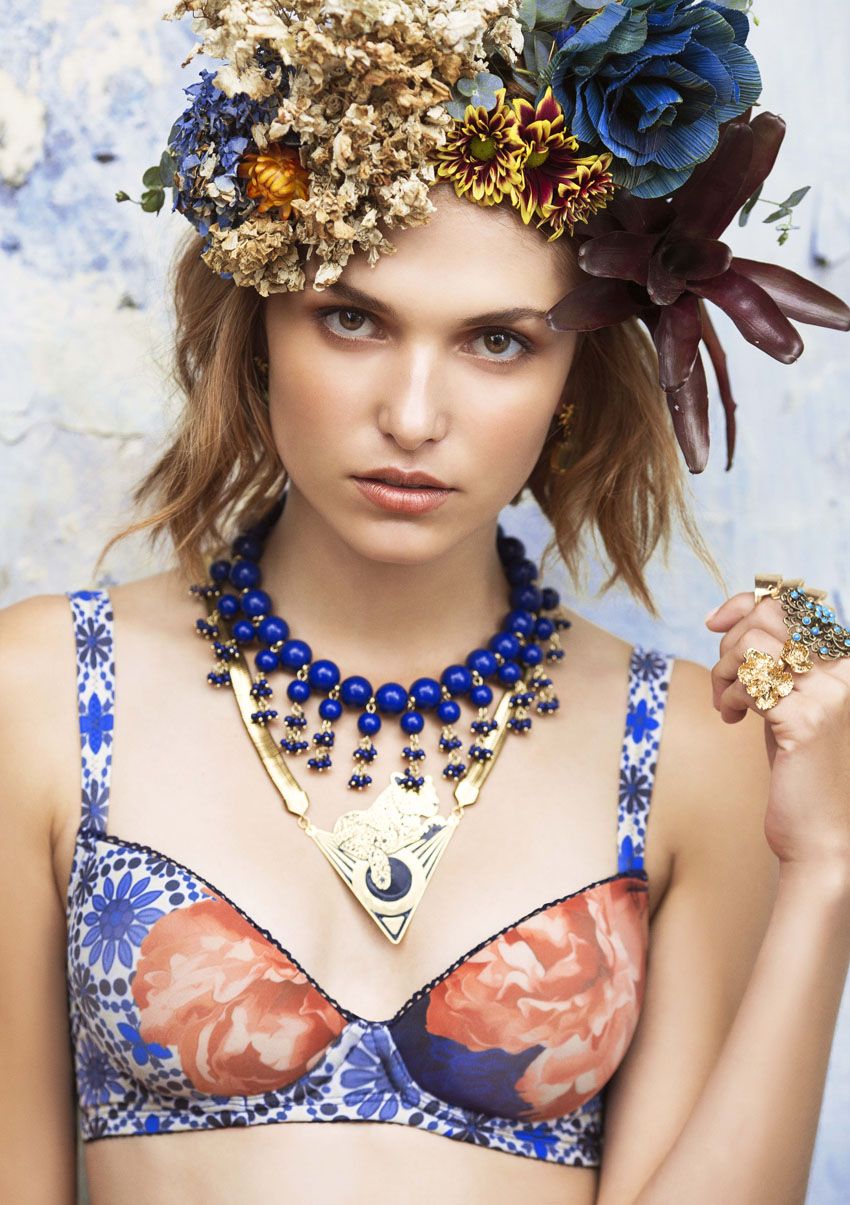 Photos Courtesy of Naja
We love lingerie. Well, strike that; we like the way it looks on Angels when they're running around in big windswept corridors or posing on silky boudoir pillows—mostly because we hope that when we put on a pair of those panties we'll suddenly look like Adrianna Lima. (Which we don't.) So we're left with oversexed lingerie that makes us feel a little too risqué, even on the days when we're trying to impress our boyfriends. So for everyday beauty with form, function, fashion and just a touch of sex appeal, we love the designs at Naja. The brand, started only last year, is hoping to give women lingerie that is beautiful, supportive and will help to improve the lives of women around the world through their partnership with the Golondrinas Foundation and their own Underwear for Hope program.
Colombian-born entrepreneur Catalina Girald is no stranger to startups. Founded to showcase independent designers, her first website, Moxsie, was one of her earliest ventures into the fashion industry. Selling the site after it began to lose sight of its original direction, Girald decided to return to school, attending Stanford in pursuit of a law degree. While working comfortably as a lawyer at Skadden, she began to feel the entrepreneurial itch and finally left to start her own lingerie line. Seeing a lack of options for lingerie that made women feel comfortable and beautiful (without excessive ribbon, lace and bows), she started her business, gaining $50,000 in startup from Kickstarter in just three days. Her first collection completely sold out and her second season is currently in preorder.
The first collection, which has been recently restocked, was inspired by Japanese woodblock designs and tattoos which were designed exclusively for Naja by a San Francisco tattoo artist. The latest collection is inspired by 17th century churches, Mexican folklore and the works of Frida Kahlo. Spending summers in the Mexican countryside as a child, Girald uses these memories to create a whimsical new collection. Birds, monkeys, traditional hearts, angels and the image of Our Lady of Guadalupe were all hand-drawn by Girald as an original print. A bright contrast from the first collection of black, white and red, the Fall 2014 collection is colorful with bold goldenrod, vibrant vermillion and deep cerulean. Every bra has a fun contrasting print inside, like a little secret that women hold in their lingerie. In every panty, an inspirational quote is written in the gusset to start your day off emboldened and empowered.
But more than inspirational quotes and cute prints, Girald believes every woman should feel beautiful, and will be coming out with sizes that go up to DDD and 2XL for her new collection. Their belief in beauty and empowerment extends even to their factories with their Underwear for Hope charity and Golondrinas Foundation partnership, where a portion of their proceeds go to training single, displaced mothers in Colombia to sew, so they can make money for themselves and their family. Naja also gives each customer a lingerie wash bag with their purchase, and these wash bags are made by the newly employed and educated women. And that's the kind of lingerie brand we can get behind—inner and outer beauty without­ the angel wings or wind fan.