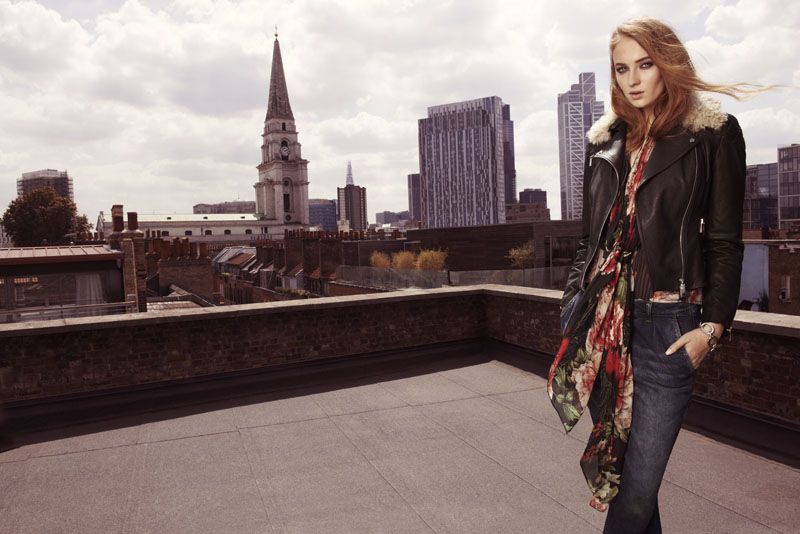 Photos Courtesy of Karen Millen
Fashion seems to have a soft spot for Game of Thrones. We're pretty sure it has nothing to do with the impending winter, dragons or the amount of people losing their heads in Westeros, and everything to do with the ridiculously gorgeous costume design—and Kit Harington of course. After snapping up Jon Snow for Jimmy Choo, another Stark child has been tapped for a winter fashion campaign. Sansa Stark, real life Sophie Turner, is the new face of Karen Millen's Fall/Winter 2014 collection. While the 18-year-old is known for her acting chops we have to admit she's pretty much killing it in her first fashion gig.
"The idea behind the campaign is to bring our brand world and our woman to life. It is designed to give an evocative snapshot into the energy and creativity of London, where our inspiration is drawn from and the KM atelier is based," Gemma Metheringham, Karen Millen's chief creative officer told Style.com. "The KM woman has both style and substance: She's memorable, with a strong character. Sophie is not only very talented, but she also has a great personality and powerful energy, in addition to being incredibly beautiful." We would have to agree. The campaign images, shot by Glen Luchford in Eastern London, show the British redhead posing on the roof of a building with a cloudy autumn skyline in the background. Styled by Katy England, Turner sports relaxed jeans, floral blazers, shearling and leather jackets, and a knee-length fur coat that will be perfect for when winter inevitably comes.
It seems Turner loved some of the pieces she modeled for the shoot despite her aversion to Karen Millen when she was young. "When I was growing up, I always saw Karen Millen as a resource for women who were a bit older. Since I started going into their stores more over the past few years, I've realized it's for people of all ages, and actually a really cool brand that I can believe in, so I jumped at the chance to be a part of their campaign when they approached me," she told Style.com. We doubt this will be the last brand to snatch up the young actress and we're already taking bets on which of the Stark children will be next to front a campaign. Arya Stark for Stella McCartney, anyone?