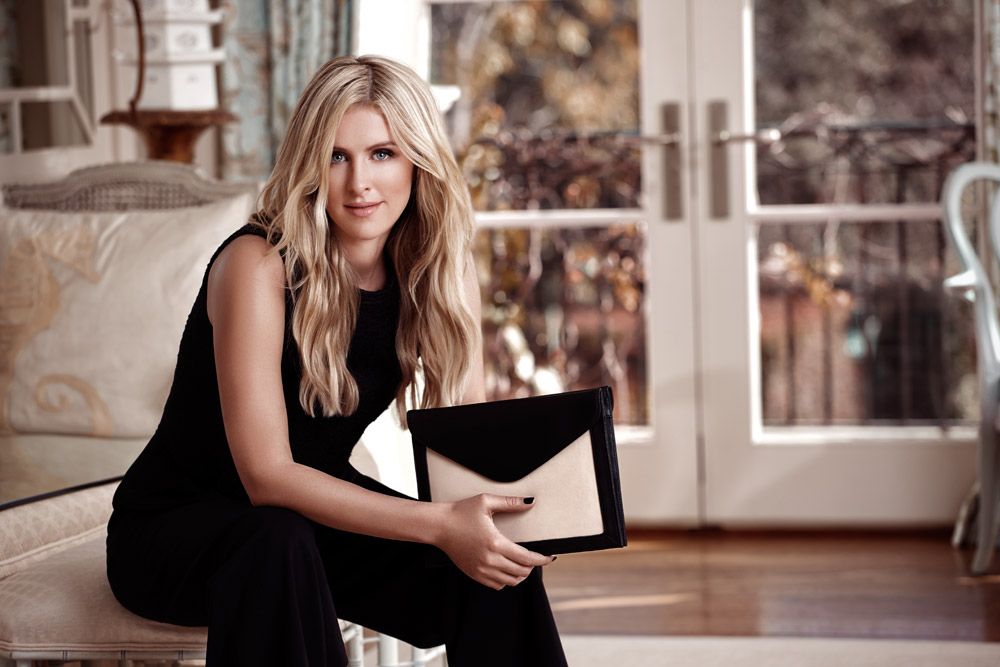 Photos Credit: Nicky Hilton x Linea Pelle
Some women love shoes, others vintage jewelry and some have a passion for designer bags—Nicky Hilton is most definitely the latter. At least that how she explains it. This season the hotel heiress and designer Linea Pelle teamed up for a capsule collection of seasonally-appropriate satchels, clutches and totes. The lineup is a Hilton-designed mashup of sleek black leather bags and funky, cheetah-print canteen pouches, that's set to be the LBD of your accessory collection. To hear what went into the making of the Nicky Hilton x Linea Pelle collection and to get the inside scoop on the trendsetter, we chatted with Hilton and talked fashion, shopping habits and the one thing she needs to buy at every travel destination.
The 32-year-old designer may be well known for her jet-set life and her socialite upbringing, but Hilton carved out a name for herself in the fashion world when she was just a teenager. "I started designing handbags when I was 17 and soon after that started doing apparel, I had a junior sportswear line, and then I did costume jewelry and now I'm back doing handbags. I love it," she gushed. "Handbags are my true love. I've been doing it for so long and I love purses." Considering the sheer number of bags she's designed and owned over the years, that's pretty much an understatement.
The collaboration with Linea Pelle was a natural progression from her initial affection for bags and her early experimentation in design. "I've been a fan of the brand, I used to wear it all the time," Hilton told us. "I'm friendly with the family and I went down to the factory and we had an initial design meeting and I was really impressed with their fabrics their factories and the quality of their items. I was excited to work together." But rather than play off of Pelle's casual, Southern-California vibe, Hilton opted to give her own creative spin to the collection and create a New-York inspired line.
For the socialite, just having a fashionable collection wasn't enough—it needed to encompass everything she loves about purses, from functionality to versatility. "I wanted to be stylish, classic and timeless so I stuck to body types and colors that were timeless," she explained. "One of my favorite bags is the Chateau, it's so cool and unique and I wear it during the day with the shoulder strap, and then at night I tuck it in and wear it as a clutch, it's really chic. And then I love the Waldorf too, which is a bit of a departure for me to do such a mod shape, but I love that."
In an effort to think outside the box and push the boundaries of her own designing talents, she endeavored to create a line that seemed simple enough at first glance, but actually used eclectic accessories and materials than she would not normally use. "I tried to use different materials that I've never used before, like that sort of like snake metal strap and then the metal tassels," she explained. "I just wanted to do different things with them. Accessorize them differently, but subtly." Anyone who's been a fan of her original bag line from the early aughts will recognize some of her personal aesthetic, but also see how she's evolved as a designer. "I think as I've matured so have my designs," she remarked. "I like to think [that] as [my fans] have grown up so have I."
But with maturity comes sacrifice. Today she's much more likely to opt for something functional than trendy. "I know it's very stylish right now, these itty bags by Fendi and all these other brands, and while I think they're adorable, they're just not practical for my lifestyle. I carry a lot of stuff," she laughed. "I travel all over the world for business and for pleasure, and I'm constantly taking everything." And it's this jet-setting lifestyle that inspired her designs and her passion for bags. "I always say when people ask me, what is your design inspiration, and for me its travel," she explained. "I love street style. I'm not impressed by an actress on a red carpet that's clearly styled by a very fancy stylist. But I like the street style aspects, when I'm in fashionable cities whether it be Paris or London. I'm just constantly taking photos and putting them up on my design inspiration board."
Her travels take her from Rodeo Drive in Beverly Hills to the beaches of Brazil and everywhere she goes she picks up a unique handbag regardless of price point or brand names. "I love it all; I'm not a snob," she laughed. "I love picking up purses in little kiosks or stands when I travel. Like the port at San Tropez, they have all these really cool little stands where they make hand-beaded bags, the same in Cabo and Hawaii. I got a really beautiful straw beach bag—none of these are expensive, but they're just unique and not everyone else is going to have them." Her two favorite brands? Chanel and Accessorize, a UK high street shop that offers costume jewelry, passport holders and socks (of which she owns several).
For Hilton, fashion is all about taking risks. And you can't take risks without wandering off the beaten path—which she's more than willing to do in search of the perfect purse. "I don't know what it is about bags. Bags can make or break an outfit. It sort of ties it all together." She laughed, "Even if you're wearing a mediocre, boring outfit if you have a fabulous bag then you're set." While no one ever hopes to be found in a drab ensemble we have to agree—rocking the right bag with jeans and a tee can turn a basic look into an outstanding one. This season we're opting for Nicky Hilton x Linea Pelle's cheetah lineup.