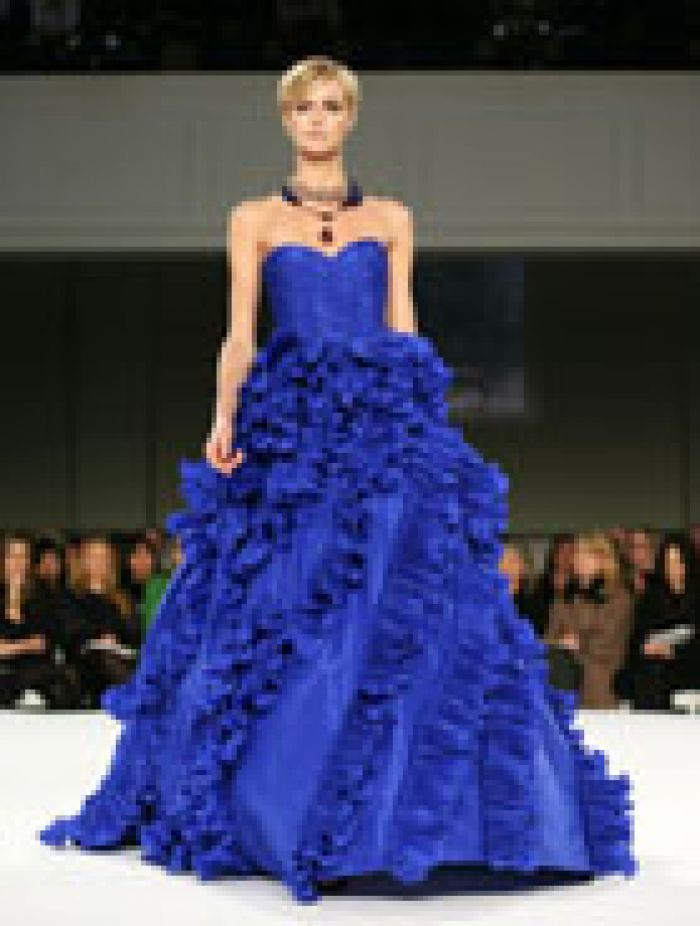 Fashion:
Florals for fall was the big message at Oscar de la Renta's pre-Fall 2008 collection, which the designer showed to an audience of press, buyers and socialites on Park Avenue in New York on Monday, Dec. 3, who sat theater-in-the-round style around the runway.
Large flower prints in strong colors such as red, green teal and yellow were splashed across the designer's signature feminine frocks and knee-length skirts with soft, voluminous folds and ballooning shapes. Elsewhere, the floral theme took on a modernist twist with an abstract tulip print day dress.
"It's merchandise that hits stores in May and June, so it's perfect for buying and wearing right away," said de la Renta after the show about the collection, which serves as a lighter, more summery version of what's too come for Fall.
Frilly touches like oversized bows and pleated "prize winner" ribbons adorned satin organza blouses in playful gingham prints and cashmere silk cardigans looked especially fresh in rich royal blue or plum, or in black when embroidered with gold feathers. Embroidery and sequined embellishment also featured on numerous in the collection, giving taking sweaters and cocktail-length dresses from day into evening.
Sleek black cashmere sweaters paired with the bright, full floral skirts gave the looks an air of mid-century bohemian chic, as though the girls stepped out of a gallery opening for an Abstract Expressionist artist in the '50s.
But it was all about '70s chic with wide-legged silk faille pants in burgundy or emerald paired with cardigans belted at the waist.
For evening, de la Renta did not hold back on the drama, whether it was a Victorian-esque black lace tiered gown with satin ribbon or the two show-stopping, Dynasty-worthy looks that closed the show that exemplified "bigger is better" - a gold tissue lame gown and a royal blue taffeta pleated gown that swirled like a tidal wave. Wallflowers need not apply.
By Renata Espinosa
Courtesy Fashion Wire Daily