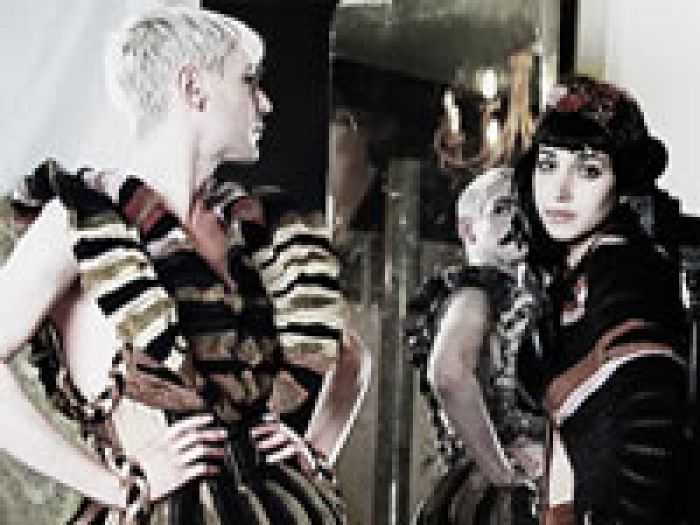 Fashion & Style:
Over the past few years, designers such as Sandra Backlund, Cooperative Designs and Tom Scott have elevated knitting from ironically hip craft to fine art. But along with these headline-grabbing names, there's a slew of young knitwear talent exploring further possibilities in a field bound by tradition.
"I think we've realized knitwear is not just an old-fashioned craft -- it's an unexplored territory," says Xavier Brisoux, a designer for women's knitwear label Anne Valérie Hash as well as the creator of an eponymous line of men's knits. "There's huge interest in completely re-inventing it. We now have real knitwear designers offering collections of just knitted pieces -- it's becoming an integral part of fashion."
Although each designer navigates the boundary between tradition and modernity in his own way, each has a penchant for show-stopping pieces that have equal footing in art and design. Brisoux's cerebral menswear collections count schizophrenia, quantum physics and images of the bipolar brain as inspiration. This duality is expressed through complex folding and draping, repetition of forms, and "deknittable" elements that literally unravel from the garment. "Although it can seem quite abstract, I always design wearable garments," explains the designer of his conceptual creations. "I believe that is how I can push knitwear: the craft is elevated by intellect, yet the concept remains down to earth thanks to the traditional nature of knitting."
Irish designer Tim Ryan's collections are largely informed by his collegiate training as a sculptor, which means multi-dimensional, yet streamlined pieces -- crucial for a bulk-averse female clientele. "Sculpture training made me very aware of thinking in the round and considering how a garment looks from all sides rather than just a front and a back sewn together," he says. "I tend to build and drape a lot on the mannequin and even though the pieces might not always be about exaggerated shape, the small details are sculptural -- like how a waist is curved to flatter."
Since its debut in May, Sibling has attracted much acclaim for a menswear collection that's equal parts Vegas showgirl and Aspen ski bunny. Fronted by a collective of former designers for Alexander McQueen, Giles Deacon and Lanvin, the line's embellished twinsets, mink-trimmed ski sweaters and knits emblazoned with 3D animal heads give traditional woolens the London club kid treatment. Central Saint Martins alum Liria Pristine made a name for herself with a dramatically whimsical, vintage-inspired graduate collection, and is now focusing on a collection of jewelry, Pristine Smut, that heavily incorporates knitwear.
Despite the grand aspirations of each designer, all are attracted to the intimacy of knitting, something that's rare in an increasingly impersonal production environment. "Knitwear is a magical world, where the fabric is formed and molded by its creator from the first stitch," says Pristine. "The choice of yarn, its weight, its color, its feel comes from you. Knitwear allows me to use color and pattern on my own terms and not have to settle for a fabric because I can't find exactly what I want."
"Knitting has a more emotional aspect than mass produced clothing, allowing for a much more expressive way of dressing," agrees Ryan. "I don't believe women want the aggressive armor of tailoring anymore, but instead want something that feels protective in a new way. The only weapon a young designer has in a very crowded marketplace is the ability to produce these intimate things that say something to women in a way no marketing can," he continues. "This for me is the huge appeal -- and luxury -- of designing knitwear."
Jason Campbell
Editor-in-Chief
JC Report
JustLuxe.com Contributor