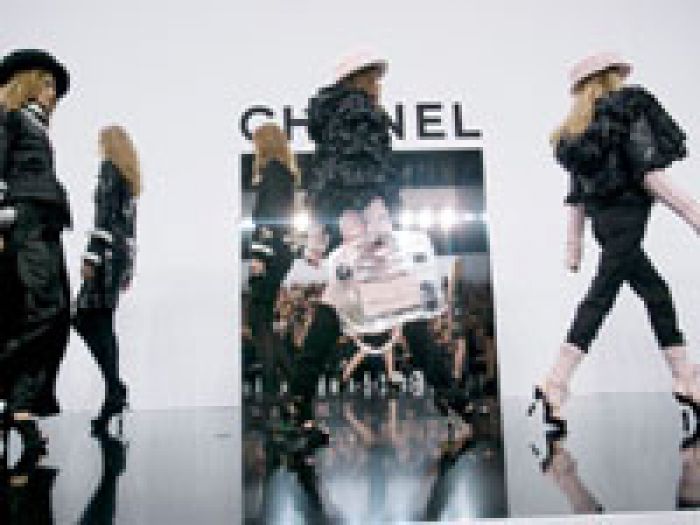 Fashion & Style:
Ever fashionable black was the theme of Chanel's 2009/10 Fall-Winter Collection.
The luxury house's head designer Karl Lagerfield even named the homage to black collection Chanel Belle Brummelle. He explains that it is a reference to Beau Brummell, "the 18th century dandy who invented the look for men of dark clothes with the focal point on ties, scarves, collars and cuffs." He goes on to explain that the collection is an extension of the look, "filled with ruffled collars and cuffs in white tulle, muslin and taffeta."
Each black suit or dress is embellished with removable ruffles with at the neck or wrist. Inspired by art deco, accessories are bold geometric shapes that contrast from the detailing. Also on the runway were Chanel's classic bags, updated with pockets for iPods, a No5 perfume and sunglasses. Making an occasional appearance alongside the black were delicate shades of pink and green that served to offset the black. All of the detailing combined with the lightweight and billowing materials served to soften the effect of black, which can seem austere in some settings.
Luxurious fabrics of chiffon, taffeta and cashmere with flowers and hats marched down the runway, at the Grand Palais. The minimalist décor of black and white walls were a modern yet classic way of offsetting the models and evoked Chanel's couture salons as easily as an art gallery.
Celebrity fans of Chanel at the show included everyone from Beth Ditto to Milla Jovovich, Olga Kurylenko, Kate Moss, Freida Pinto and Lily Allen.
For LxM Carly Zinderman
Luxury Fashion Insider