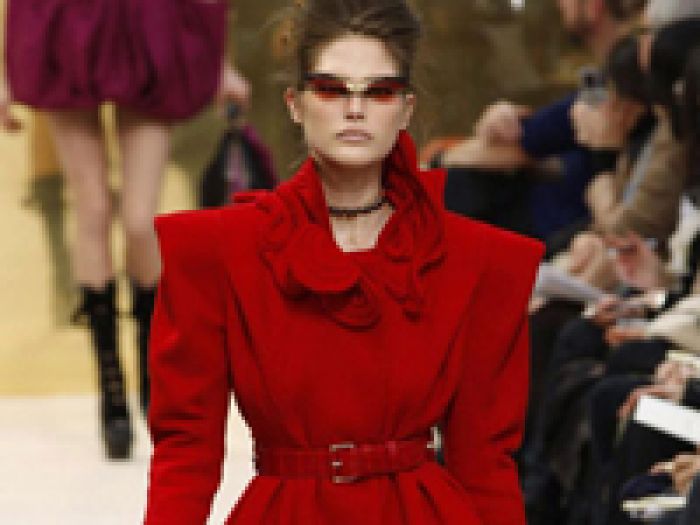 Fashion & Style:
Designers aren't ready to give up the 80s yet, they're just moving further into the famously larger than life decade, as the Louis Vuitton: Women's Fall-Winter 2009 Fashion Show proved.
With Marc Jacobs at the helm as artistic director for Louis Vuitton, the Women's Fall-Winter 2009 collection was all about the 80s, from the ruffled skirts to the blazers.
According to Style.com, Jacobs drew inspiration from the French fashion muses of the late 80s, specifically citing Marie Seznec (who modeled for Lacroix), Victoire de Castellane (who worked for Chanel), and Inès de la Fressange (who was virtually French fashion mascot in chief at the time).
The show followed shortly after Jacobs announcement of his sponsorship of the exhibit at the New York Metropolitan Museum of Art's next fashion exhibit called "The Model as Muse: Embodying Fashion."
The ruched skirts, transparent blouses, androgynous tuxedo jackets were made less serious by some of the models who wore Playboy bunny ears to help with the society hostess flavor of the show.
The show was marked by ruched cocktail dresses, lacy tops, jackets with shoulders sometimes as wide as the jackets were long and frilly, puckered dresses, bubble skirts, bejeweled satin leggings. Most of the collection was done in black, with bright bold turquoise and pink hues thrown in as accents.
As a nod to the fashion house that was built on leather goods, a lot of the designs used leather, especially the accessories. Pyramid heels showed up on both ankle boots and side zippered riding boots. Thigh high boots were topped with lace and the heels glimmered with glitter. Leather necklaces and belts were woven into pieces reminiscent of paper chains.
The handbags in the collection were rather exquisite, with familiar Louis Vuitton shapes accented by ruffles and metallics and other gorgeous gildings.
Despite a lot of black, the Louis Vuitton: Women's Fall-Winter 2009 Fashion Show managed to be quite cheerful, thanks to all the fun touches from Jacobs.
For LxM Carly Zinderman