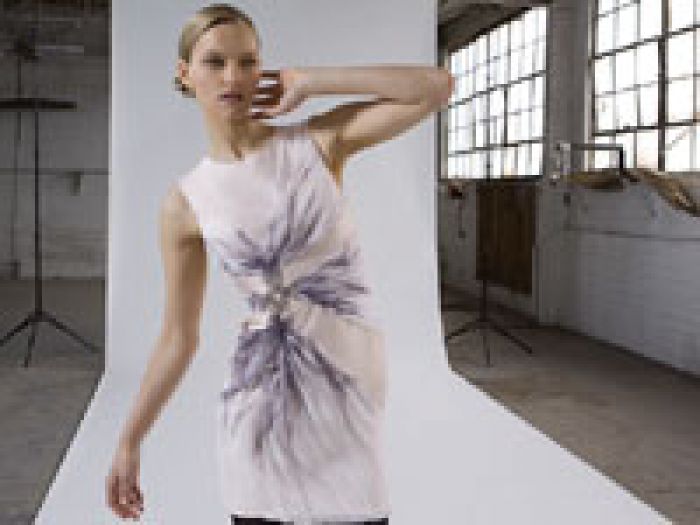 Fashion & Style:
Thrive is ambitiously designed for truly sophisticated women. According to founder and owner Rob Meadows, the line aims to reach "those people who make a difference in the world."
Founded in 2005 in Los Angeles, Thrive was born from Meadows' need to step out of his own proferssional field: "I wanted to do something more creative, something outside the world of technology where I come from...and fashion really interested me." The transition was surprisingly simple, as the LA-based entrepreneur studied local fashion talents with an outside consumer's eye.
Despite having no training as a fashion designer, Meadows is always involved in the creative side of his label. What's more, his incongruous background has become an integral part of the conceptual process behind the collections. "It is interesting to watch both the industries," he observes. "The trend right now in technology is very similar to what we are doing in fashion: an iPhone, for example, looks very simple from the outside, but when you get closer there are a lot of details, there's a lot of complexity in there."
If the spring/summer '09 collection's defining theme was graphic design, then the autumn/winter '09 collection is a mix of simplicity and chaos. Designed by Benjamin Cho, this recent collection embraces the duality Meadows finds in today's technology and fashion trends. "We really wanted to bring together a couple elements: an element of simplicity in the profile and the silhouette, and a little bit of chaos in the details," he explains. Designer Benjamin Cho adds that it is "a unique look, with a lot of hand painting."
Using a combination of talent in New York and Los Angeles, Thrive is selling in the USA for the moment, but Meadows is looking to open to Japan and Europe as well. "We are starting to look at designers that could fill the gap," he says.
Jason Campbell
Editor-in-Chief
JC Report
JustLuxe
Contributor