Jason Campbell View Profile

Editor-in-Chief | JC Report
Buenos Aires Fashion Week: Saving The Best For Last
Aug. 26th, 2009 | Comments 0 | Make a Comment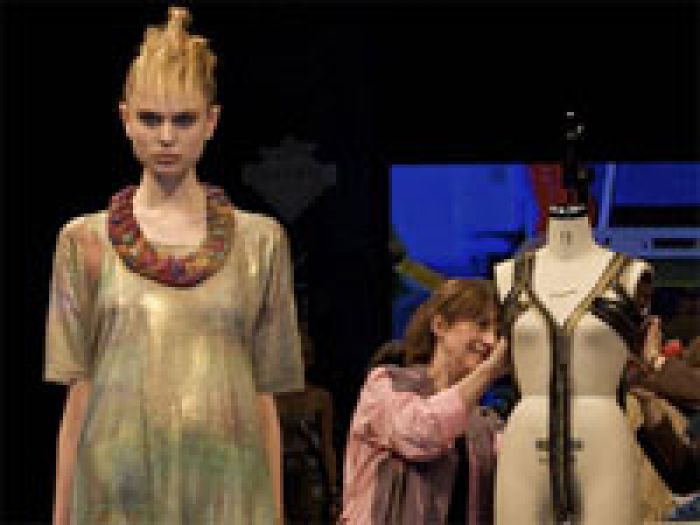 Fashion & Style:
After pulling through two days of solid, but not outstanding, runway collections at Buenos Aires Fashion Week's spring/summer '09 show, we were anxious to see what the grand finale had in store for us. As it turned out, the best was saved for last, with the final day featuring runway collections to a packed house where a handful of A-list local designers, including Marcelo Senra, Vicki Otero and Tremando's Martín Churba, showcased their work.
Marcelo Senra was back in action this season after a brief hiatus from the BAF Week runway scene this past winter. His Latin America Spirit Collection was influenced by Central and South America's diverse ethnic backgrounds, pulling inspiration from countries such as Guatemala, Brazil and his native Argentina. Bold, tropical colors were juxtaposed against intricate textures and prints, creating a fresh collection of knee and floor length dresses. Senra has presented his work throughout the Americas and Europe, and has marked his collections by incorporating indigenous Argentine craftsmanship into his designs. Distinguished by the autochthonous use of accessories and materials, Senra is known for using products such as thread paper, hemp, straw, raffia, ewe, vacuña and alpaca.

As we've seen in years past, color is the protagonist in Mariana Dappiano's work, and this season's runway potpourri stayed true to her roots. Aromas and flavors were mixed to generate a mélange of harlequin colors
inspired by aromatic ingredients, flowers, leaves and spices. Hints of coffee, ginger, paprika, capers and bergamot flowers were all shaped into her ubiquitous patterned fabrics of light-weight cotton and viscose jacquards creating the organic and unstructured shape characteristic of her loose, untethered silhouette.

Viki Otero worked her sartorial magic again this season by recreating an austere 19th century colonial look that seemed strikingly similar to her winter collection. Over-abundant gigot sleeves and pleated knee-length skirts and dresses crafted from chambray, linen and voile accompanied the somber Otero color palette of midnight blacks and charcoal grays. A seashell white was also orchestrated into the mix, giving the summer collection a cool break from its dark undertone.

No Buenos Aires Fashion Week would be complete without a brazen runway spectacle by the preeminent Martín Churba and his Tramando line. Internationally acclaimed as one of the top designers out of Argentina, Churba's presence during BAF Week is the most anticipated event each season. After taking to the street in a Carnival-themed procession during his fall/winter '09 runway show, we were all on the edge of our seats wondering if he would live up to last season's performance.

This year was no acception for Tramando, as Churba once again blew us away with his innovative and interactive approach, turning the runway into his factory-studio by recreating the design making process. Seamstresses and tailors worked feverishly with print and sewing machines that lined the catwalk as the collection premiered on the outskirts of the runway. The icing on the Tramando cake arrived when top Argentine model Cecilia Mendez strutted down the catwalk in the mini rope dress created by Churba's team during the runway show.


This year's X collection was an exploration into the strong and vibrant roots of African culture. From Jamaican rastas and Afro-Brazilian musicians to the spectacular ornamentation of East Africa's Maasai people, Churba pulled his inspiration from a number of colorful venues. The summer '10 collection plays with tailoring techniques, highlighting his textile philosophy that creates a deconstructed and asymmetric look. Metallic textures donning rabid reds, yellows and greens alongside bold prints offer a strong visual impact for the Tramando Basics line. "We found the inspiration for this collection in cultures where the handwork and craftsmanship are the protagonists and where this craftsmanship is translated into a unique, unparalleled work," Churba stated in an interview about his X collection. Wherever he finds his textile philosophy in the coming seasons, we'll be sure to keep you posted as Martín Churba is becoming hard to miss nowadays.

Jason Campbell
Editor-in-Chief JC Report
JustLuxe Contributor
Finding the best in luxury can be a daunting task, which is why we've taken it on for you.