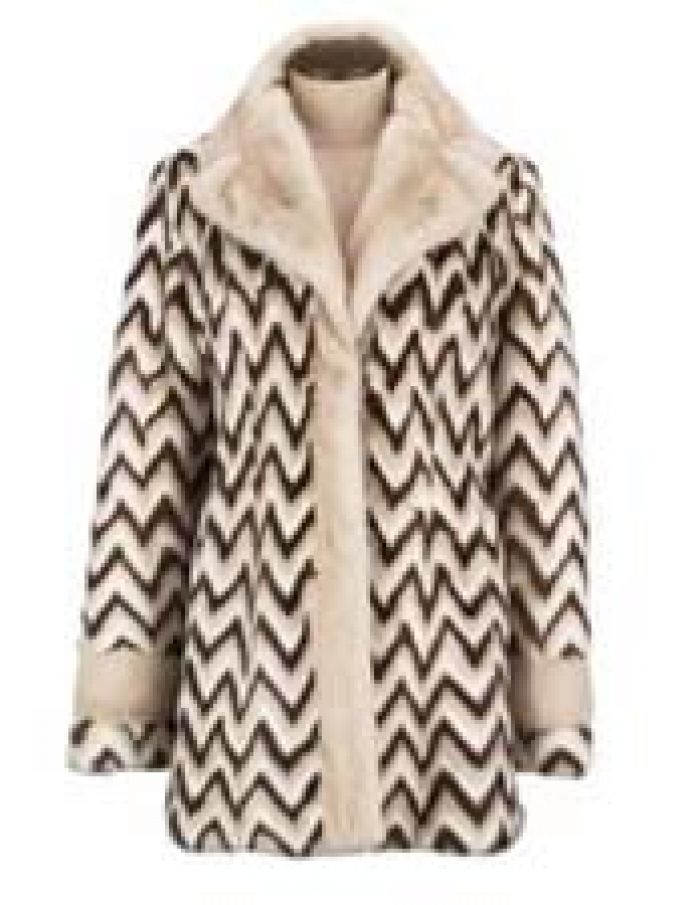 Holidays aren't the only time to buy gifts for the people in your life, and when it comes to high-end gifts, you want to put a lot of thought into it and not make any rash buying decisions. It's not easy picking that one gift that will really want wow that special someone. Tiffany's, Victoria's Secret, Sharper Image - all fine and good but so mainstream. You want a gift that says "I love you" or "you've arrived". Here is a roundup of some luxe gifts sure to win you so many brownie points you'll never find yourself sleeping on the couch again.
Wow her with Mink
This isn't your average fur coat. Featuring Cole Haan's exclusive multi-color herringbone pattern, the
Multi Color Mink
($8,995) screams sophistication with old-world flair. Whatever the occasion, wrap your lady in luxurious warmth and pinnacle style.
www.colehaan.com
Give a little to get a little
So you want your guy to be on time? A watch makes a perfect gift - he's happy and you make your dinner reservations on time. We like the appropriately named
Speedy
timepiece by Vuitton with the Large Automatic Chronograph in Smart Grey ($5,500).
www.eluxury.com
Wing of Fire
Did you ever wonder what Johnny Cash was referring to when he wrote the song Ring of Fire? We can only make assumptions, but it probably had something to do with a woman. If you're smitten, the Linda Lee Johnson
Wing of Fire
($4,600) necklace will ensure the feeling is mutual (buying her love isn't beneath you, is it?). You'll ignite the fire in your sweetheart with this 22k yellow golf wing of fire diamond pendant on a gold chain from Barneys - and everyone loves Barneys.
www.barneys.com
A Diamond is Forever...
Sure, maybe the diamond lasts forever but don't get the idea that this will be the last diamond you'll buy for her (sigh, we feel your pain). But you might as well milk it while you can. We recommend this 4.33 caret diamond bracelet ($5,807) from
Ginkgo New York
.
www.gingkonewyork.com
Croc Fever
Style mavens are still gaga over croc
and this
Croc Hobo
by Nancy Gonzalez ($4.000) will put a crocodile sized smile on your lady's face. This exotic tote is fashioned out of silver-hued Colombian crocodile with knotted 8-inch handles and a suede lining.
www.vivre.com
Animal Instincts
Animal prints of all kinds are a hit for fashion as well as for the home. The
Zebra Print Norris Chair
by George Smith ($6,800) makes a great accent piece for the progressive home decorator. Dried beech and birch covered in zebra printed boar bristle make this armless chair an instant conversation starter.
www.vivre.com
Glam Rock
No, it's not a teenage rock band. We're talking about the
Glam Rock Chandelier
by Erickson Beamon. Dripping with Japanese glass pearls, Swarovski crystals, glass and brass chain on an antique brass base, the Glam Rock chandelier is a handmade
objet d'art
. It can be yours (or your darling's) for $22,500.
www.vivre.com
Go Pink
Give the gift of art with the vibrant
Blow Cube
by Elizabeth Paige Smith. You certainly can't pass by this illuminating work of art without taking notice. Whoever receives this gift will think of you for years and years to
come. Contact the artist for pricing and availability: 310-392-8060.
www.furnitureseen.com
Hover Craft
Maybe it was designed with kids in mind but this "toy" is a big hit with grown-ups too. Who doesn't want to levitate like a flying saucer above level ground? Imagine what the neighbors will think when they see you zipping around the yard. If you're guy has a little (or a lot) of boyish charm, he'll be thrilled with this Levitating
Hover Scooter
($15,000) from Hammacher Schlemmer.
Personalize a Porsche
You already dropped $60K on the Boxster, so another $500 to have it monogrammed is a drop in the bucket. A company called Name Your Porsche will create customized text to replace the model designation on the back of your new Porsche. Of course everyone can still tell it's a Porsche Boxter from the styling and lines of the car, but they will also know this ride belongs to
The Shiz
or
Daddy's Princess
.
www.nameyourporsche.com
Admire it
If you've ever gone to the home theater section of a consumer electronics store with a man you've seen how his eyes glaze over and he seems more content
than you've ever seen him. Now imagine if he brought one of those flashy TVs home for you but it was encrusted with 160 real diamonds? Listen up guys, there's a way to get that big screen TV you've always wanted. Italian manufacturer Keymat Industrie has designed what is deemed as the most expensive LCD TV in the world. The
Yalos Diamond TV
set is studded with 20 carats worth of diamonds unlike the Swarvoski encrusted Loewe's LCD TV from CY Digital. For $130,000 it could all yours (but you might have to share).
www.keymat.it
Acquire it
$130,000 for a TV is a bit extravagant, we'll admit it, but you can still get a top-of-the-line TV, like the
BeoVision 4
from Bang & Olufsen, which offers a true-to-life cinematic experience on a 65" screen. Featuring the newest generation of VisionClear technology, including digital filters for adaptive enhancement of color and luminance rendition as well as a special anti-reflection coating that increases contrast by preventing 80 percent of the incoming light from reflecting back at you, the BeoVision sells for $24,400 (package price for a 65" screen).
www.bang-olufsen.com
Get out of Dodge
If you'd rather give your loved one memories to last a lifetime instead of a material object, why not surprise him or her with an exotic vacation to Anguilla? Anguilla is the place to be, with A-listers like Robert DeNiro, Denzel Washington, Jay-Z, Beyoncé, Donatella Versace, and Liam Neeson making it home away from home. You may recall that this vacation hot spot is the island where Jennifer Aniston and Brad Pitt took their "break-up vacation."