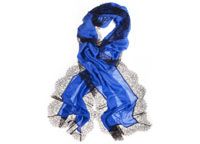 Fashion & Style:
Nothing feels more sublimely luxe than cozying up with cashmere. Ahilya takes cashmere to a whole level of luxurious comfort by blending ancient Kashmiri methods with cutting edge British design.
Using the world's finest resources for each scarf--fibers are from Ladakh, lace from France and metallic fibers from Japan—each scarf is hand spun, hand woven and hand dyed.
The result is Manuela Moollan's ahilya scarves, a reflection of Europe's history with Kashmir. Made with ancient traditions, the scarves are genuine cashmere, straight from the legendary goats, but are so inspired by the city of London. Each collection reflects a merging of cultures and the brand new range of 2010 are no exception.
Inspired by Surrealism, ahilya's 2010 collection is at once a juxtaposition and a merging of old and new, time and space, ancient and modern. The collection features the collaboration of up and coming design talent Jane Rutter and artist Lela Shield, who helped to move the scarf from accessory to statement.
Whether a city fairy floating in lace, or a tough as nails type, the new collection, which incorporates exquisite chains and laces, has a place in every wardrobe.