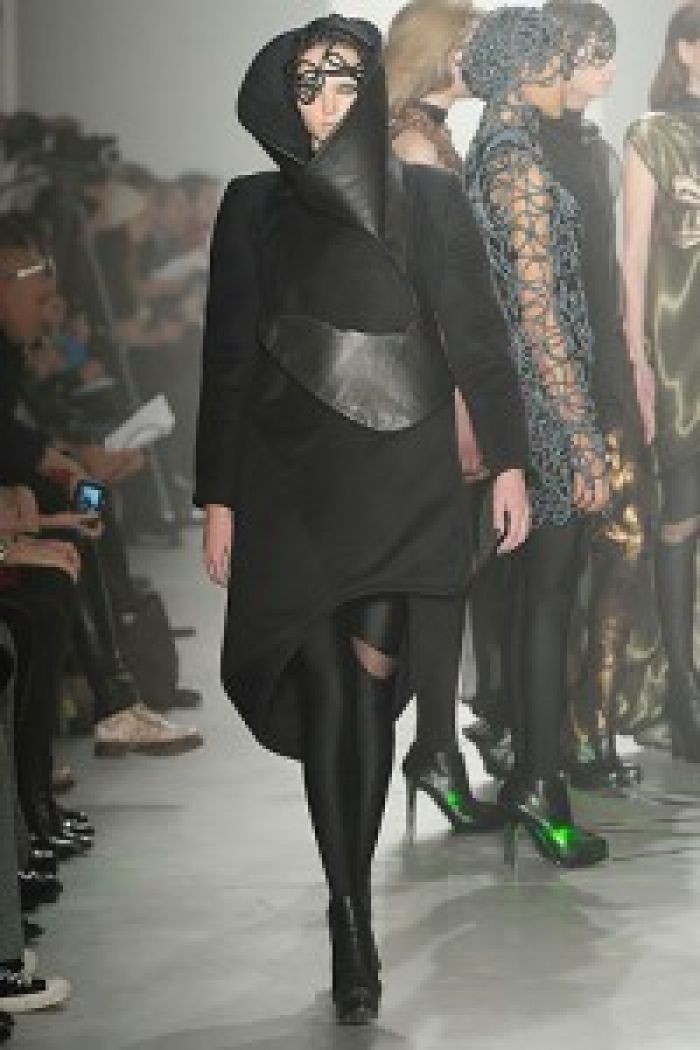 Fashion & Style: The process of identifying trends six months in the future has become both a blogger's sport and a buyer's necessity. Luxe fabrics predominated this season with the majority of designers incorporating fur, leather and velvet into their collections. Be they controversial, questionable or tried-and-true, we're guaranteed to glimpse any or all of the above come September. Another love-it-or-leave-it trend to look out for is cutouts, which, truth be told, aren't for everyone. They nevertheless managed to look fresh and sexy this go-round. With these upcoming staples in mind, here's our low-down on the season ahead.
While animal-friendly faux fur alternatives have increasingly appeared in more collections, the real deal was all over the recent runways. Derek Lam knit fox into a black and white cardigan, Halston's Marios Schwab embellished the sleeves of a sweater dress and Marc Jacobs used it on the lapels of a see-thru trench. Fresh off his Swiss Textiles Award win, Alexander Wang experimented with a number of different fabrics, backing a zip-away leather jacket and criss-crossing lapels with mink. Many of these looks will show up at H&M and Forever 21 too, albeit in decidedly less expensive manifestations. The heretofore fur-free designer's unfortunate use of pelts in his show makes sense given recent supported from Saga, but thankfully some of it won't be produced for stores.
Leather was the most common go-to fabric for fitted, asymmetrical jackets. It was also used in more novel ways, as in the case of men's leggings at both Maria Cornejo and Rad Hourani. To wit, Joseph Altuzarra held high-slit pencil skirts together with straps of leather, lending the pieces a vaguely S&M vibe. Threeasfour, meanwhile, paired it with wool to create a collared, almost hood-like coat and Ohne Titel's Flora Gill and Alexa Adams coupled it with silk to fashion a chic, patchwork drawstring skirt. In addition to singular pieces, expect to see leather—both real and faux—used as embellishment or in conjunction with fabrics like wool, cashmere and twill.


Velvet's sartorial connotations ran the gamut—little girl party dress, "festive" formal wear, hippie-chic topper—but there's little doubt we can escape it for fall. Elise ?verland showed a velvet menswear-inspired suit and tuxedo wrap dress, while Carly Cushnie and Michelle Ochs fashioned a lace and velvet cap-sleeved dress for their semi-eponymous label. In keeping with his naughty schoolgirl vibe, Peter Jensen's take was admittedly cheekier (tartan bloomers), while Zac Posen's conjured thoughts of chi-chi late '70s holiday parties.


Cutouts continue as a reining trend. When strategically placed they imbue basic black with some much-needed sex appeal, but not-so-gym-toned flesh might be better kept under wraps in any of the season's other trends. Max Azria's designs for Hervé Léger have never been a go-to for the faint of heart, so it's little surprise that his sheer-paneled cutouts came courtesy of some killer mini-dresses. Speaking of itty bitty, Halston incorporated the technique into Grecian-style party gowns, featuring artfully exposed flesh and miles of leg. Preen offered what was perhaps the most wearable take in bandeau bra topped silk and cashmere dresses that revealed the areas above and below the décolletage—and leaving just enough to the imagination.

Jason Campbell
Editor-in-Chief JC Report
JustLuxe Contributor