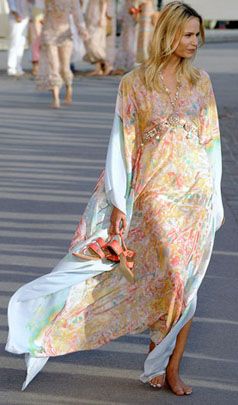 Fashion & Style:
Although
Karl Lagerfield
is notorious for looking forward and eschewing the fashions of the past, the Chanel Resort 2011 collection has a distinctly 70s vibe.
Held on a street in Saint-Tropez, models paraded down the street-turned-runway in flowing caftans and cognac colors.
Mostly barefoot, and carrying footwear as accessories, other 70s touches came in long crocheted dresses, ruffle-lapelled silk jersey trouser suits, and patchwork denim skirts. Everything was relaxed and flowing, with no pearls or flowers in sight, although casual rifts on the fitted Chanel coat and suit did make the occasional appearance.
The laid-back location of the collection seemed to mirror Lagerfield's mood when creating it, giving him a more relaxed and nostalgic feeling.

"Chanel was spotted here once in '34 by Colette."

"I spent many years of my life here," Lagerfield said, "I know Saint-Tropez like I know Paris. The collection is very casual, very down-to-earth."

Beyond the casual clothes and celebrity-studded front row, the other star of the show was the powder blue polish on the model's nails, sure to be another Chanel cult favorite.