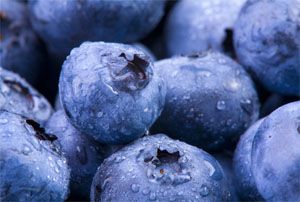 Health & Beauty:
Before your
New Year's resolutions
completely fall through the cracks, consider adding blueberries to your list.
The weather up North is frightful, but below the equator, fresh, ripe blueberries are being grown in Chile, and are perfectly paired with everything from oatmeal to muffins to homemade beauty treatments.

Blueberries have been named a "superfood" thanks to having more antioxidants than green tea or red wine, as well as cancer-fighting properties. They are also used as an anti-inflammatory and among the latest ingredients to be added to beauty products.

For a healthy treat in the middle of winter, look to Chilean blueberries for an easy and nutritious yogurt parfait. It's ideal for a light and healthy breakfast after a holiday season of feasting.

Chilean Fresh Blueberry and Orange Yogurt Breakfast Parfait

1 cup granola
3 5oz. low fat orange yogurt cartons
4 cups fresh blueberries

Divide and layer ingredients into four glasses, starting with granola, blueberries, then yogurt. Repeat. Garnish with fresh orange zest. Great for breakfast or an afternoon snack.

Nutrients per serving
Calories: 302
Calories from fat: 36
Fat: 4gms
Saturated fat: 3gms
Cholesterol: 9mg
Sodium: 61mg
Dietary fiber: 5gms
Protein: 6gms
Makes four two-cup servings

Save a few blueberries for a fun do-it-yourself mask, perfect for a luxurious day of pampering at home.

Blueberry Facial Mask (from Planet Green)

¬ľ cup blueberries
1 tbsp raw organic honey
1 tbsp organic olive oil

Method:
1. Add all the ingredients to a blender and blend well.
2. Evenly apply all over the face, leaving room around the eyes and mouth.
3. Leave the mask on for five minutes allowing it to fully sink in hydrating and nourishing the skin.
4. Remove the mask with a damp cloth.

Don't let the winter blues drag you down without getting your fill of delicious, nutritious, healing blueberries-inside and out!