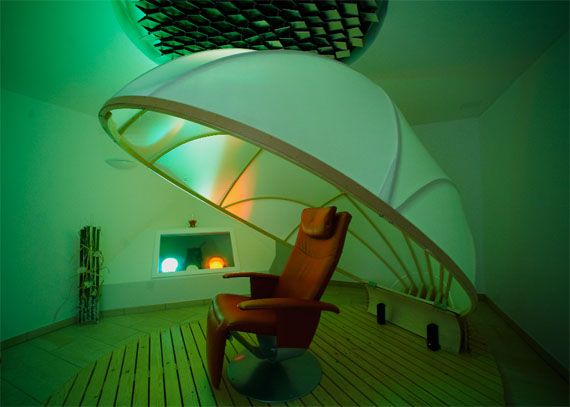 Health & Beauty:
Having indulged over the
festive season
and consumed one too many mince pies, I feel itís the ideal time to give my body some TLC. If youíve ever tried detoxing at home, youíll know that it can be impossible because youíre surrounded by temptation.
So I jumped at the chance to visit the Viva Mayr medical center. I wonít use the word 'spa' as that provokes images of massages and pampering. Viva Mayrís ethos is more, well, extreme.

Itís a five star hotel located on the beautiful shores of Lake Worth in Klagenfurt, southern Austria, so if thereís anywhere more ideal to detox, Iím yet to find it. I arrive at Viva Mayr slightly nervous but excited about the promise of getting rid of this bloated feeling, as well as leaving more energized.


Iím given the tour of this stunning retreatĖthereís a gym, sauna and steam rooms, along with a beautiful heated pool, massage and reflexology areas. Itís called a medical center and it is definitely clinical in terms of its cleanliness. My room is cozy and has a minimalist decor. I also have a balcony, although it overlooks a local restaurant, which could prove too tempting!

Another benefit of detoxing at Viva Mayr is that all the guests are in the same boat. If you are tempted by something or are feeling emotional (one of the side effects of detoxing), chances are others are feeling the same way too. And people travel from around the world to stay here, such is the attraction of its prestigious reputation.

I arrive for my consultation with Dr. Christine Stossier, who set up the Viva center with her husband Dr. Harold Stossier in 2004. Sheís really friendly and knowledgeable. We discuss everything from my eating habits to my colon function, and she also gives me a medical checkup.


Everyone who stays at Viva has a consultation, so that the experts can decide which eating program and treatment schedule suits you the best and to decipher whether you need a course of supplements as well.

I undergo an Applied Kinesiology muscle test where Dr. Stossier monitors my bodyís resistance to determine whether or not Iím allergic to anything. The results show I have bad digestion and Iím not producing enough saliva. They also reveal that Iím wheat and dairy intolerant, which considering I lead a vegan lifestyle, isnít that much of a problem. However, the issue for me arises when she suggests that Iím also fructose intolerant. Fructose is a natural sugar found in fruit which I consume a lot of, especially in smoothies. She says I can still have berries, which offers a small glimmer of hope.

Now, I wouldnít say that Iím a chatterbox (I admit that maybe others would), but Dr. Christine also gives me strict instructions not to talk during meals and to chew my food at least 50 times per mouthful. Meal times are going to be fun then!


Iím also given a program of supplements, such as multi-vitamins (which you can choose to buy), as well as treatments including light therapy, abdominal massages and colonic irrigation. Iím intrigued now to find out what Iíll be eating for my four days here. But I donít have long to wait, as itís time for breakfast. I wander into the communal dining room, which has a stunning view overlooking the lake and the area where guests can relax in the sun or take part in exercise classes such as stretching and yoga.

The friendly waitress serves me soya bread and almond puree with a herbal coffee. After a while, I realize thereís nothing more to come. So I begin eating, in silence. Chewing my food over and over. While thereís not much to the meal, it is delicious. By the end of the meal, Iím surprised that I feel so full, but I was told to expect this from chewing properly. Apparently the less we chew our food, the more stress it puts on our internal systems, which can cause anything from being uncomfortable to potential illness.

ďThe Mayr Cure is about re-educating the body,Ē Dr. Stossier tells us later that day. And she explains that you donít have to make huge changes to your everyday diet but small and significant ones. Between 60 percent and 70 percent of our immune system is linked to the digestive system, she adds, meaning our immunity is determined by how healthy we are internally.


Guests are also prescribed Epsom Salts every evening, which we are to drink first thing in the morning to flush everything out. If youíve never come across these, let me just politely say they have a quick laxative effect and you should only take them when youíre close to a toilet.

Moving on, thereís plenty to do while at Viva MayrĖyouíre only a short drive away from historic towns such as Velden, Portscach and Klagenfurt. Or, if you fancy staying close to home, you can go for walks around Lake Worth. I try to do as much as possible, but itís also nice to sit back and relax, which isnít something many of us with hectic lifestyles get a chance to do. But the main focus of the stay is obviously on the food.

My three meals a day are very similar due to my diet and my allergies. For lunch I have various pureed soups based around different vegetables, as well as soya bread and oil, and for dinner I have a broth and soya bread. Iím told the final meal of the day should be the lightest so a minimal amount of stress is put on the body while youíre sleeping and it can instead concentrate on rejuvenating.


We also get unlimited herbal drinks, and weíre told not to consume water for 20 minutes before and 20 minutes after eating as it neutralizes the acids needed to breakdown the food. All is going well until the end of day two. As Iím lying in bed Iím overwhelmed by a feeling of extreme hunger. I feel dizzy and as though Iíd eat anything that was put in front of me. I fill myself with as much herbal tea as I can stomach and within 30 minutes, the feeling subsides and I drift off to sleep.

The following day I wake at 6 a.m. and I feel fineĖbetter than fine, actually. And Iím told my experience last night was due to toxins such as sugar and salt leaving my body. At 7:30 a.m. I head to the outdoor exercise class followed by 20 minutes of reflexology and an amazing back massage in between meals.


Itís day four, my final day at Viva Mayr, and I head to my last consultation with Dr. Stossier. She recommends that to reap the real benefits of the medical center, guests need to book for a three-week stay and to budget around £350 a day for treatments and supplements. But I feel as though my short time here has been beneficial, especially as the bloated feeling I had when I arrived has gone. Dr. Stossier walks me through my aftercare plans and talks about how I can improve my diet when at home, including imagining that fruit doesnít exist except for blueberries and strawberries, which is something Iíll try my best to stick to.

In terms of results, Iíve lost more than four pounds in weight during my stay here. But in terms of what Iíve gained, itís a huge amount of knowledge about how my body works, and a heap of energy to boot. A great way to start the new year!

Getting there: Prices for Viva Mayr start at £140 per night for a single occupancy room. Price includes all food in your personalized diet, mineral water and teas. For more information visit viva-mayr.com.

Austrian Airlines flies every day from Heathrow to Klagenfurt via Vienna and Ryanair flies direct from Stansted airport three times a week.

VIVA-Centre for Modern Mayr Medicine
Seepromenade 11
A-9082 Maria Wörth
+43 (0)42.73-311 .17.0