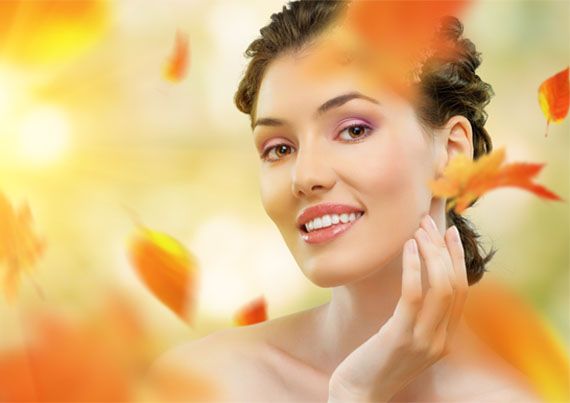 With the seasons changing, it's important to make sure you update your skin care regime. Here are some amazing
beauty products
to keep you feeling fresh this fall.
Biologique Recherche P50 Lotion
$89
Start off your facial cleansing routine with Biologique Rechercheís exfoliating P50 lotion that is designed to purify, hydrate, tone and balance the skin. After washing your face, simply soak a cotton ball with P50, which is great for every skin type, and apply it to the face and neck area without rubbing. Allow the product to fully dry before applying moisturizer. Celebrities like Nicole Richie, Sofia Coppola, and Elizabeth Mosshave all used it on their skin.
Carita Lagoon Hydro Nutrition Rich Cream
$118
Once you have fully cleansed the skin and toned, be sure to moisturize with Caritaís new line of hydration products like the Rich Lagoon Cream. The collection features water from the depths of a lagoon on the Polynesian island of Raiatea near Bora Bora. This lotion is extremely good for those seeking age prevention while improving the skinís ability to preserve its water and lipid reserves. The cream forms an invisible protective film on the surface of the skin to limit water evaporation. The result? Smooth, hydrated skin.
Neocutis Lumiere Bio-restorative Eye Cream $80
Smooth out those fine lines around your eyes with Neocutisí Lumiere bio-restorative eye cream. This moisturizing cream contains a high concentration of PSP to energize, revitalize and rejuvenate the delicate skin under the eyes. After just a few uses, we noticed a visible improvement as well as reduced under eye darkness.
LíOreal Mythic Oil
$29
If you have been struggling to keep your hair hydrated and less frizzy then be sure to check out LíOrealís new Mythic Oil. The product is made with avocado and grape seed oil that result in a nutritious, protective shine. We used it on damp hair prior to blow drying and the result with a frizz-free soft shine. You can also use it as a finishing product to repair split and dry ends.
Philip Kingsley Scalp Toner
$22
Philip Kingsley, better known as the "hair guru," has recently introduced some products to help keep hair looking its best. The scalp toner refreshes and supplies it with a stimulating astringent and provides antibacterial benefits. If your scalp has buildup, your hair will not look its best. Simply place a small amount on dried hair and style as usual to keep your head looking and feeling great.
John Varvatos Star USA
$70
John Varvatos has just introduced a new fragrance for men: John Varvatos STAR USA. Varvatos partnered up with Elizabeth Arden to offer a fresh and woody scent that is casual yet elegant. The fragrance offers clean and bright notes with an unusual encounter of red ginger and vetyvert. We loved the beautiful bottle made of smoky glass and silver metal, drawing inspiration from 19th century vials and industrial materials, while the spring system of the cap is reminiscent of antique beer bottles.
Organic Male Desert Springs pH Balancer
$35
Donít miss Organic Maleís Desert Springs pH Balancer that brightens the skin and reduces dryness. Infused with witch oil, this product works to recharge the skin while reducing any inflammation or redness. We loved the aromatherapy effect that seemed to alleviate stress and fatigue.