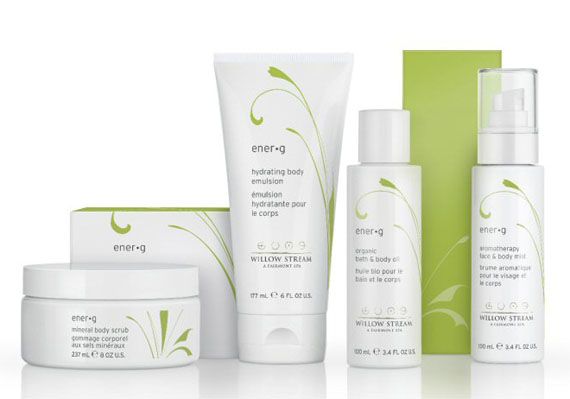 Photo Courtesy of Ener.g
I was in
Scottsdale
recently for a much needed weekend away with the girls and what goes better with a group of girls than a day at the spa?
But this story isn't about my trip to Willow Stream Spa (though it was absolutely perfect for me and my posse). This story is about the epiphany I had during my 90-minute aromatherapy massage. Entranced by the miraculous scent of essential oils that were customized specifically for my visit — lightly herbaceous, woody and citrusy — I vowed to recreate this experience at home to the best of my ability.
On the way out, I purchased four products used during my service that I simply couldn't live without from that day forward, and declared to my gal-pals, "Spa day, once a week—with or without Willow Stream!" And as a product aficionado and longtime writer of beauty and wellness, you can trust that I have kept to my declaration… and now, I am in love.
Why I love Ener.g bath and body products:
1. The first and very most important reason: Value. Let's face it—high-end spa products are expensive. But I love them. So, when I buy them, I want them to last. And I want the freedom to apply them liberally and know that they will still be there tomorrow.


2. Results. Whether it was the warming exfoliation or the hydrated cleansing or the elevated emulsified moisturizing...who cares?! My skin feels so freakin' soft! And hours later, my skin still felt as though it was wrapped in a sheath of silk.


3. Aromatherapy. I am the stressed out type, so I regularly consult aromatherapy to calm me down and lift me up. The particular essential oils formulated into Ener.g products smell clean and subtle. Subtle fragrance, happy boyfriend — ten points!
My new products (and where to buy them):
Each product contains a blend of Bergamont, Rose Geranium, Clary Sage, and Roman Chamomile, essential oils that energize and promote overall well-being that reflects Willow Stream's "'find your energy' philosophy."
1.ener.g Mineral Body Scrub with ($45 8 oz.)
2.ener.g Hydrating Body Emulsion ($45 for 6 oz.)
3.ener.g Organic Bath and Body Oil ($40 for 3.4 oz.)
4.ener.g Aromatherapy Face and Body Mist ($45 for 3.4 oz)
How I used them:
In the Shower (I):
I created a body wash cocktail with blood orange and vanilla body wash (one of my favorites!) and the ener-g bath and body oil. Hey, if it can go in the bath, it can be used in the shower.
Bonus:
It did not leave a slippery film in my tub — it's so great when I don't fall!
In the Shower (II):
I exfoliated my entire body — from the tip of my forehead to top of my tippy-toes. Did you know that exfoliating is an excellent way to soften skin and hair follicles prior to shaving? Doing so not only gives you an incredibly smooth shave, but helps your body absorb more moisture when applying lotion after bathing.
After Shower Moisturizing:
An emulsion cocktail (guess it was cocktail hour at my house!) I sprinkled a quarter size amount of oil in the palm of my hand and added to it the emulsion cream, rubbed my hands together and applied.
Bonus:
It absorbed very quickly, meaning I could get dressed very quickly. And, it left behind no residual film or oily layer that so often appears with the application of inexpensive ingredients. After ten minutes, my skin was amazingly soft… soft and smooth and actually healthier looking.
I bought the toner to use as a toner, but as I feel about most toners, I am not sure if they ever really work so I now use the face and body mist during the day to refresh my face when I am bored at my computer, and as an aromatherapy mist to cool down after yoga class!
More about the Ener.g body care line from Willow Stream Spas and Spa Partner Kerstin Florian:
Willow Stream Spa, the award-winning signature spa brand of Fairmont Hotels & Resorts, introduces its newest product line ener.g, made exclusively by spa partner Kerstin Florian International. The fresh, inspiring line of
bath and body products
is designed to captivate the spirit and awaken inner energy and well-being, capturing the essence of the Willow Stream Spa brand.
"Willow Stream Spas are founded upon the principal of energy — living with abundant energy and offering energy-enhancing treatments that promote a sense of joy and healthy well-being," says Anne McCall Wilson Vice President Spas, Fairmont Raffles Hotels International. "With the ener.g line, we are able to provide this to our guests whether they are at the spa or at home."