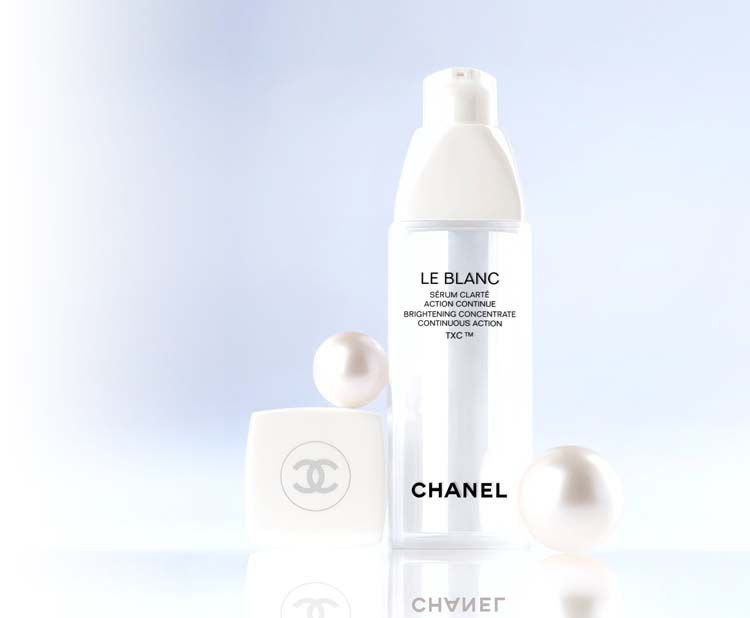 Photo Courtesy of Chanel
Founded in 1909, Chanel has been the height of
luxury fashion
, perfume, makeup, and skincare ever since. With their new Le Blanc Brightening Skincare Collection, Chanel promises women an illuminated complexion that will become more even and radiant with each day that passes.
Coco Chanel
always loved the color white and would often wear pearls close to her throat to brighten her face. With the Le Blance Collection, Chanel is bringing that brightness to households. There are four products in the collection and together they blend Western science with Eastern philosophy to create textured products that work together to brighten your skin tone. Using key ingredients like Pearl Protein and Licorice Extracts, each product is designed to meet a specific need.
According to Chanel, the Fresh Brightening Foam Cleanser, retailing at $60 for 5 FL. OZ., gently cleans and purifies the skin, leaving it soft and bright.
The Brightening Moisture Lotion, retailing at $67.50 for 5 FL. OZ., is a super lightweight toner that is meant to further hydrate the skin. While refining the skin tone, Chanel designed the Moisture Lotion to make the skin more receptive to the rest of the Le Blanc Brightening Collection.
The Brightening Concentrate Continuous Action TXC, $195 for 1.7 Fl. OZ., is one of the more intense brightening productions in the collection, according to Chanel. Its purpose is to give the skin a high dose of the TXC molecule, while the Pearl Protein Extract visibly corrects the skin's dullness, all while hydrating. Delivering action for 12 hours straight, the TXC molecule was created to help regulate and balance melanin in the skin, causing the perfect amount of melanin to be produced to create smooth, even skin.
Chanel designed the Brightening Moisturizing Cream, $130 for 50 G, to act in three ways: help with dark-spot correction, moisturize, and give soothing comfort. Enhanced with TXC, the patent-pending formula is meant to boost brightening and maintain hydration for eight complete hours.
For more information visit
Chanel.com