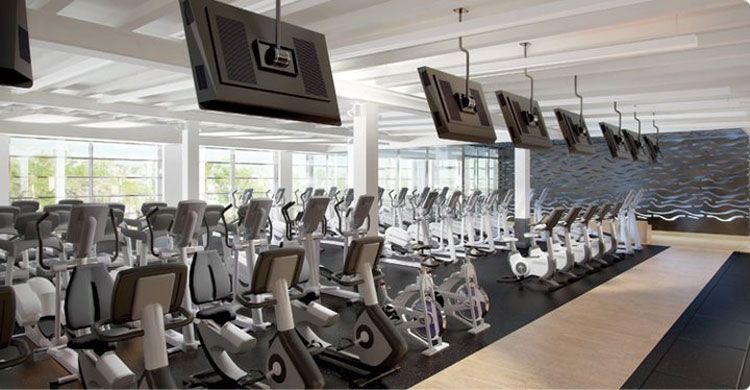 Photo Courtesy of Equinox
Anyone living in an urban metropolis city has probably heard of the
luxury gym
, Equinox. The upscale fitness and lifestyle club has established a modern and cutting-edge identity and made its presence known via a library of iconic advertising campaigns shot by various pop culture and fashion icons, like the one below. Now the 21-year-old athletic franchiser known for revolutionizing the standard gym into a luxurious fitness and lifestyle experience is expanding its properties with its second Canadian sector.
Equinox?s second Canadian location will open in the Yorkville area of Toronto, a part of the city that is known as the most luxurious shopping and residential districts in North America. The 40,000 square foot fitness club will fit right into the heart of the city?s thriving financial, cultural and entertainment districts aside luxury hotels, retail, and restaurants. The luxe facility will feature the same contemporary design that has become recognizable in the Equinox community, its usual state-of-the-art equipment, and the most sought-after group fitness instructors, personal trainers and experts in wellness. The upscale gym provides such group classes as yoga, martial arts, pilates, and studio cycling for its members, as well as spa services and products, apparel, and even food and juice bars? talk about a healthy lifestyle.
Equinox Pool
The Yorkville location will be the latest addition to the 56 upscale, full-service facilities that are located throughout New York, Chicago, Los Angeles, San Francisco, Miami, Boston, Dallas, and Washington D.C., as well as another location in Toronto and its newest which just opened in London.
For more information, visit
Equinox.com
.