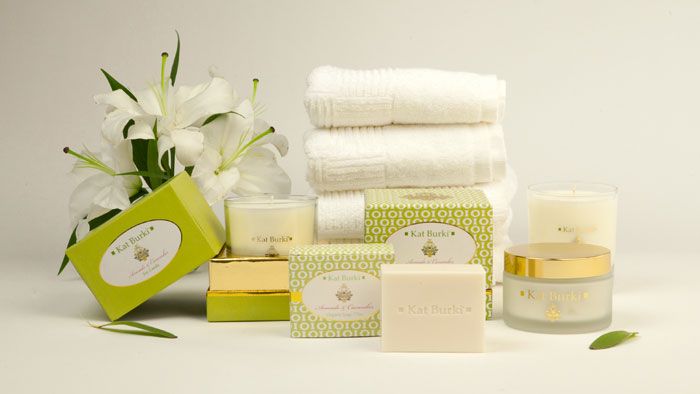 Photo Courtesy of Kat Burki
High-end fashion labels love to boast about the confidence you will experience simply by slipping into one of their exquisite garments, but truth is, if your skin doesn't feel nourished and replenished it is hard to rock the clothes with the poise they deserve. Lucky for us, Kat Burki features natural and organic
luxury products
that are said to awaken your senses and give you the much needed energy to take on the day (and any outfit.)
The scented soaps by Kat Burki are French triple-milled (meaning they form a smoother, longer-lasting and more uniform soap,) and with organic, all natural, paraben-free, vitamin and floral herb-infused ingredients, they are said to evoke a truly calming experience. To leave the skin feeling silky smooth, Kat Burki soaps feature natural products such as olive oil, coconut oil, palm oil and natural glycerin and come in nine different signature and therapeutic scents including Lavender Lightly, White Tea, Freesia & Pink Grapefruit and Eau de Poire et Santal.
Kat Burki candles are made from 100% hand-poured, renewable soy wax and cotton eco-wicks, giving these candles an unheard of 60 hours of burn time. With slower burn time, scents are gradually released to continually give your home one of Kat Burki's many signature scents. With aromas that range from clean and refreshing Avocado & Cucumber to sultry and romantic Rosa Baroque, there is a candle for everyone, no matter their scent preference.
Each fragrance has been developed over years and uses the highest quality of fragrance oils. With a devoted dedication to finding the perfect combination of aromas, Kat Burki takes pride in being about to produce personal care products to give you an overall sensory experience. These luscious soaps are available for $15 a bar while candles are $38 each and can be found at various luxury hotels, spas and retailers worldwide.