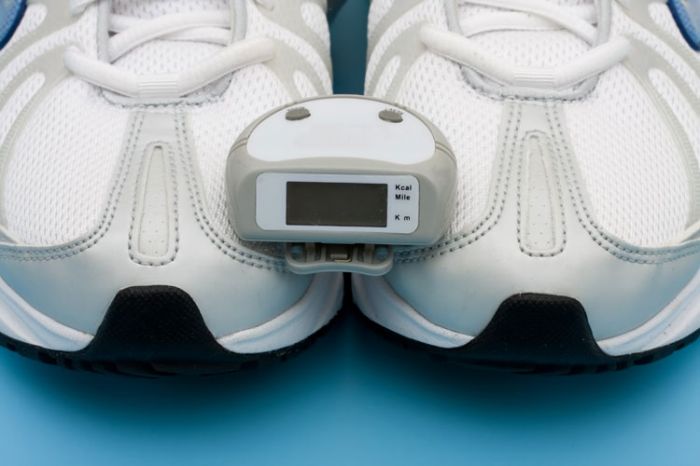 Photo Courtesy of iStockphoto/Thinkstock
If you feel like your tummy isn't as tight as it used to be or that spring in your step is now accompanied by a generous jiggle, then you might be thinking that extreme diet and exercise is the only way to rid yourself unwanted pounds. Not necessarily— pedometers are a great way to get active, and most importantly, help improve your
health and wellness
.
Studies show that these fun little gadgets that have been a fan favorite to power-walking grandmas all over the country are surprisingly beneficial when it comes to reducing blood pressure and weight. "Our major result is pedometer users increased their physical activity," Dena Bravata, MD, said in an article called "Pedometers Get You Moving" on
WebMD
. Bravata is a senior Rresearch scientist at Stanford University School of Medicine and a doctor in private practice in San Francisco.
Alongside her colleagues, Bravata analyzed 26 published studies on these devices and the effect they have on increasing daily physical activity. She ultimately deduced that those who wore the devices lost weight and became healthier altogether. While pedometers have been shown to boost physical activity, there are some "steps" to take to ensure that you get the optimal results.
Setting a goal for yourself is crucial, as it gives you a target to stride towards. "Having a step goal is a key component of [increasing] physical activity when using a pedometer," Bravata said. Whether it is a specific amount of steps per day or a certain amount of miles a week, having a goal gives you a purposeful reason to get moving.
When buying your pedometer, make sure that you find one that's right for you. There are plenty out there on the market– from simple gadgets that simply count how many steps you take to more advanced ones that actually connect online so you can track your steps and miles virtually. Prices generally range in the $15 to $35 range; however, you can spend up to $350 for a pedometer with all the bells and whistles, if you are so inclined. Also, to ensure that your readings are as accurate as possible, make sure that you log your weight, height and stride length in your pedometer.
After you've set up your pedometer, wear it for a few days so you can determine your average level of activity on a normal day. From there, you can start to work towards your goal and increase the number of daily strides. Simple strategies to increase your pedometer steps include parking in the farthest space when you go out, taking a walking break instead of a coffee break at work, or taking the stairs instead of the elevator. If you feel as though you have plateaued after a while, then simply set a new goal for yourself and up your daily steps.
A healthy diet is also incredibly beneficial when it comes to losing weight with a pedometer (and generally speaking.) Make sure that you increase your water intake since you're increasing your activity level, and eat healthy foods to make sure you burn more calories than you consume.
So get up, get out, and stride your way to a fitter you!