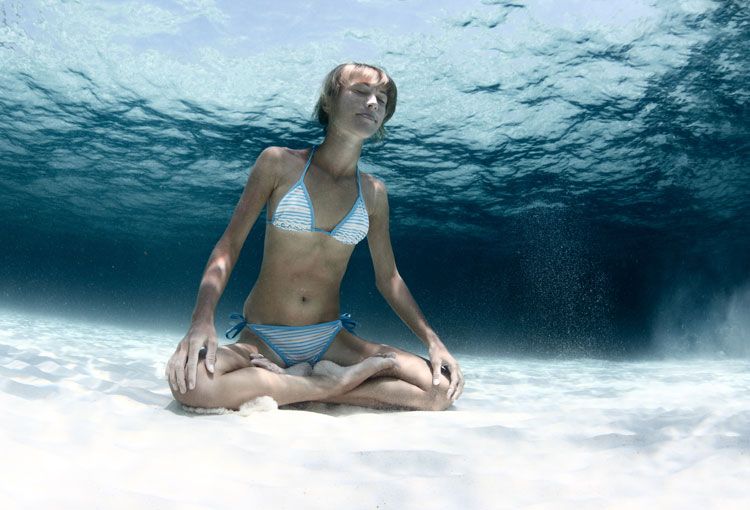 Photo Courtesy of Dudarev Mikhail/Shutterstock
Yoga these days has gone so far beyond Hatha and Vinyasa. Hybrids are all the rage, as multi-certified instructors figure out how to combine it with other practices like martial arts, dance, swimming and more. Aside from the obvious
health and wellness
benefits of incorporating yoga into your lifestyle, many of the formerly specialized yoga types are finding a new user base as people look to stretch their bodies and psyches to challenging new places. From hardcore to low-impact, and from tasty to downright silly, this list comprises all of our favorite hybrids that are currently on the market.
Photo Courtesy of Koga
Koga
Kickboxing combined with yoga brings two seemingly opposite exercises together… and then, you see how many overlaps exist between the two practices. This hybrid combines plyometric and isometric movements with music and meditation. As seen on
The Dr. Oz Show
and
Good Day New York
, this program was invented by certified trainer Jon Koga, a fitness industry professional for nearly three decades.
Photo Courtesy of YogAqua
SUP Yoga
As stand up paddleboarding (SUP) has increased in popularity as a fitness activity over the last few years, it makes sense that ocean lovers would want to take their yoga onto the water. The width and stability of the paddleboards makes them viable "floating yoga mats," and just like working out on the BOSU balance trainer, the ever-moving surface makes you engage many tiny muscles that never get used in most regular workouts. This fledgling hybrid goes by a few different names: yoga instructor Sarah Tiefenthaler runs the YogAqua program out of a Marina del Rey studio, while the Fairmont Orchid in Hawaii calls it Flo-Yo.
Photo Courtesy of Aqua for Balance
Aqua Yoga
If you prefer to be in the water rather than floating on top of it, aqua yoga is a low-impact, body-balancing alternative to land-based versions of yoga. These water-bound yoga activities that are favorable to pregnant women, disabled persons, and others with limited mobility. Of all the hybrid yoga types, this is perhaps the most widely offered. Yoga centers in any city or online groups like Aqua for Balance usually have information on at least one aqua yoga or water yoga instructor— these classes are often grouped in with pre-natal yoga resources.
Photo Courtesy of Swerve Studio
Yoga Booty Ballet
Gillian Marloth and Teigh McDonough, the partners behind this fun, sexy, high-results program, have starred in several YBB videos over the years, bringing dance-cardio workouts like Cardio Cabaret to TV screens long before the advent of Wii Fit. Yoga Booty Ballet originated at Swerve Studios in Los Angeles but has spread to other cities via a teacher training program. If you visit the original studio, though, you might be lucky enough to have one of the founders teach your workshop.
Photo Courtesy of AntiGravity Yoga
Aerial Yoga
Work on flexibility, challenge your circulation, and pretend you're a Cirque du Soleil performer by taking your poses aerial. Companies like AntiGravity Yoga put people in a suspended cloth sling that supports the core but gives greater freedom of movement to the limbs, shoulders and trunk. Aerial yoga is offered at various studios and even some hotel spas, including the Fairmont Scottsdale Princess.
Photo Courtesy of the Yoga Place Studio
Rope Yoga
Rope yoga has a similar principal to the aerial version, but it suspends people from ropes affixed to a wall rather than the ceiling. Different areas of the body can be supported by the ropes depending on placement. Also, the lower ropes are placed in a way that allows for floor work. Ropes are most commonly incorporated into Iyengar yoga, but can be used in various types and all levels of the practice.
Photo Courtesy of David Romanelli
Yoga and Chocolate
It's not a pairing for purists, maybe, but for people who want to incorporate one more of the five senses into their experience, this is a delicious way to do it. The main guru behind the yoga/chocolate combo is David Romanelli, who goes by "Yeah Dave" and whose philosophy is based on living and enjoying life in each moment.
Yoga and Capoeira
Requiring incredible core strength and flexibility, the Brazilian fight-dancing discipline Capoeira is one martial art that seems to have natural crossover with yoga. But there are few Capoeira masters in the States – thus, you don't see too many places offering this hybrid. Probably the best-known is Carlos Rodriguez's CaponyasaTM program, based out of New York City since 2011.
Photo Courtesy of Funk the Buddha
Disco Yoga
If you love to get your groove on but can't deal with nightclubs or '70s theme parties, this fun and funky dance-yoga hybrid might be just the ticket. It's not commonly found in studios but tends to be more of a pop-up event or special workshop. The group that's most diligently bringing disco yoga to the masses is Funk the Buddha, located in London's Mayfair district, of all places.